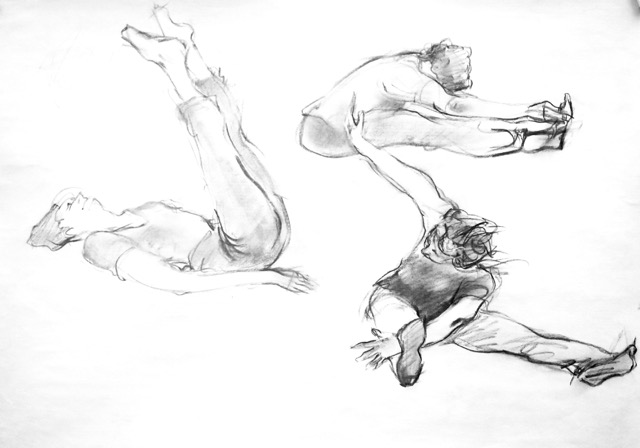 My favorite subject to draw is the human figure in motion. For example, dancers, people moving in natural ways, the figure at rest (leaning, slumping, or sleeping.) I begin drawing by focusing on my subject, catching the action of the pose quickly, while barely looking down at my paper. I then go on to add details later if there is time.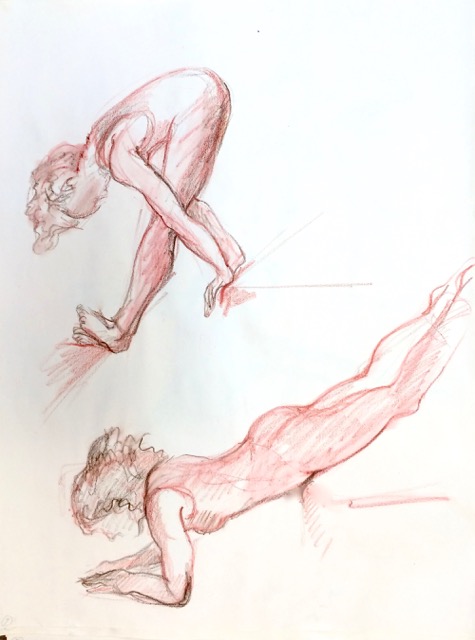 This summer I was particularly fortunate when a drawing project fell into my lap! In Stockbridge MA, I found a Pilates coach to work with who was a former Broadway dancer named Cynthia. She gave me a personally tailored Pilates routine in exchange for allowing me to draw her doing Pilates moves to post on her website.
On the back lawn of my house, in two separate sessions of about two hours each, she posed and I sketched her. I sat in a lawn chair with an 18″ X 24" newsprint pad on my lap. In the first session I sketched with black or brown Conte chalk. The second session I used Caran d'Ache water soluble crayons, limiting my use of color. Cynthia held each pose for as long as she could, maybe a minute or two, while I did a quick gesture drawing. She'd resume the pose if I needed her to, but then on to another. I drew about 15 poses in each session.
I kept the drawings loose, preferring to emphasize a quality of movement. And I omitted the details I might include in a portrait session describing personal features and character. After she left I continued to develop the drawings, emphasizing essential features like a foot angle, hand shape or other key elements. It was great fun doing a project which served a specific purpose: a job for a client that still remained a creative task for me. The images are now on her website and I'm looking for my next job.