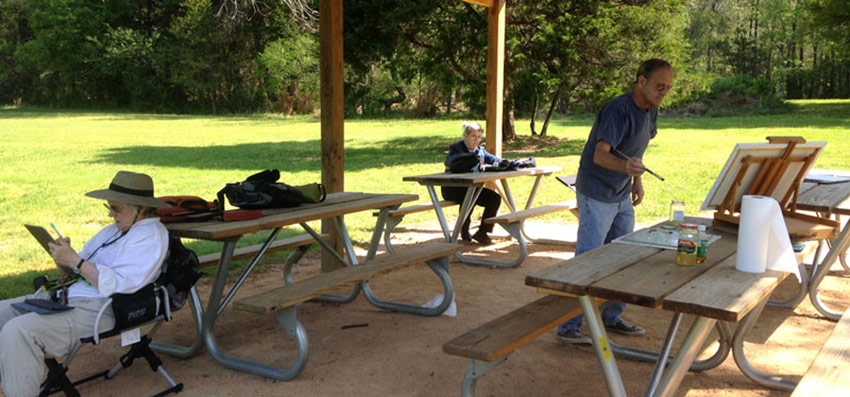 On Friday, April 14, four OCAG artists met at Blackwood Farm Park (off Highway 86) for a plein air painting session. The farmhouse, out buildings, and large barn are in a state of arrested decay, but it is surrounded by 152 acres of picturesque rolling farmland punctuated by magnificent trees. This is indeed a landscape artist's paradise.
To describe this adventure, here are comments and images from each artist. Attending were Nerys Levy, Fred Good, Louise Francke with trusted hound Zippy in tow, and David Taylor. Each is a seasoned painter.
Nerys Levy summarizes the experience: "There is something comforting about working in a group. Conversations ebb and flow and there are long periods of concentrated silence. I worked from the picnic shelter which has a wonderful view of the large barn, huge trees, and various out buildings."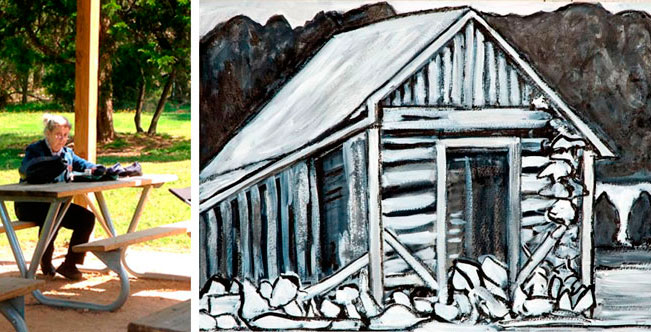 Fred Good notes: "The setting for our paintings (Blackwood Farms Park) is one of those hidden treasures that result when local citizens collaborate with local governments to provide a beautiful outdoor resource for everyone. Can't wait to be back there May 5 to finish what I began."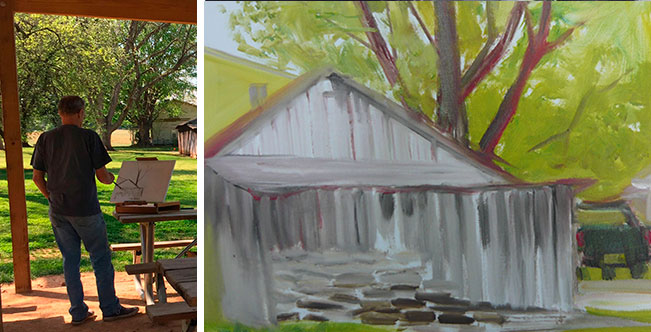 David Taylor comments: "I gravitated to the old farmhouse which I had painted before on a previous trip to the site many years ago. I like detail and was drawn to the worn, asymmetric windows and stone chimney. When we meet here again soon, I will complete this work. "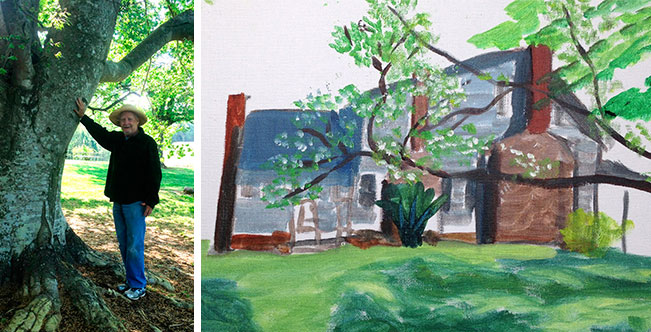 Louise Francke remarks: "It was a glorious day with a cool breeze. I've dedicated these plein air days to learning art apps on my iPad. Some may eventually become paintings or remain digital images."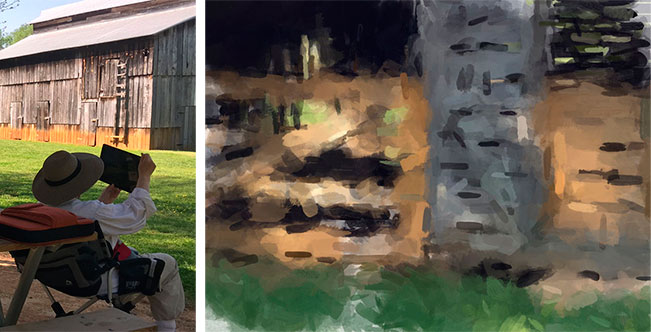 This group of artists hopes to return to Blackwood Farm Park on Friday May 5 at 10:30 am. For details, keep your eye out for an email from the OCAG exchange about two weeks prior to the scheduled plein air time. Come join us!