Finishing up a yearlong art project left me drained and at loss of creative energy. I became mired in emptiness and fear crept in that I would never have another idea that excited me enough to create again. I had been fumbling around using a new technique and got caught up in generating a lot of work for an upcoming show. Not the answer I was seeking to my emptiness. Along came an opportunity of a lifetime- my husband, Terry, and I were invited to be Light House Keepers on Cape Lookout for a week. Staying on an undeveloped natural barrier island required packing all the provisions and food we would need for the week and carrying them over by boat. I brought my sketch book with a few collage papers tucked in, pencils and some inks. When Terry packed his tool bag I decided it was only fair that I add my collection of acrylic ink spray bottles and box of stencils to our trunk. On arriving, I set up a little studio in front of a window overlooking the base of the Lighthouse in the 150 year old keeper's quarters where we stayed.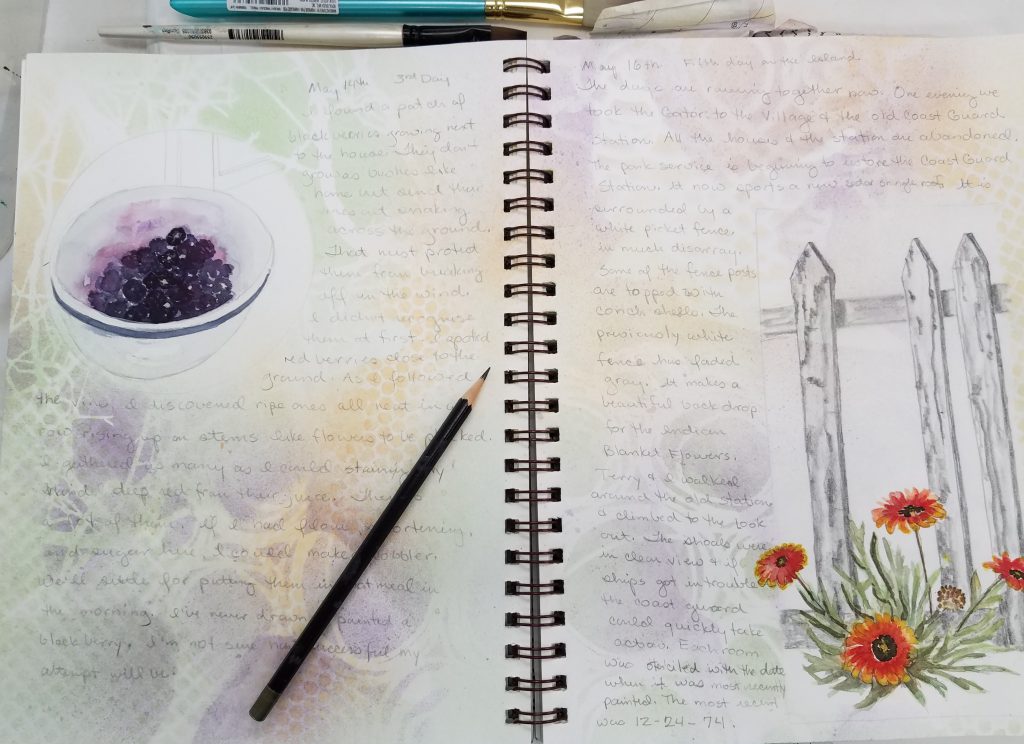 From day one, the beauty of the island filled me with inspiration. We had lots of down time to explore. I began to fill my sketch book with little paintings, drawings, and notes of my experience. I discovered black berries growing next to the house. They don't grow into bushes like home but instead snake their vines across the sand to protect them from breaking in the strong wind that blows incessantly. To my delight, the ripe berries stood up on stems like flowers waiting to be plucked. We explored the old Coast Guard Station that was decommissioned in 1982. Only the old picket fence surrounding it stands guard now leaning into the wind with Indian Blanket Flowers at its base.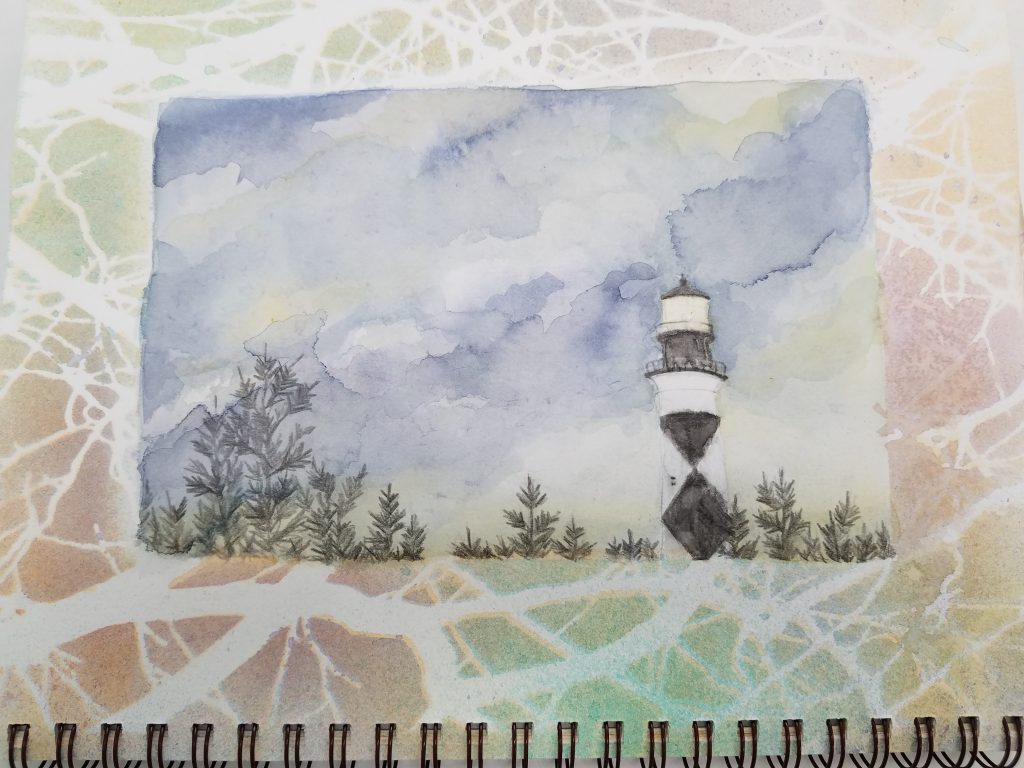 The second day a cold front rolled in. I had never seen anything like it. A huge bank of dark clouds extended from the edge of southwest horizon to the northeast. The cloud was alive rising, rolling and pushing down on itself mixing colors of Payne's gray, cerulean blue, and an orange yellow. We were about a mile from the house when we saw it coming. We raced back to find the Light House draped in heavy storm clouds, its light shining brightly welcoming us home.
The week at Cape Lookout was the antidote to my creative emptiness. I returned home feeling full, spilling over with inspiration and ready for creative expression.
See more of Nancy Smith's work here.