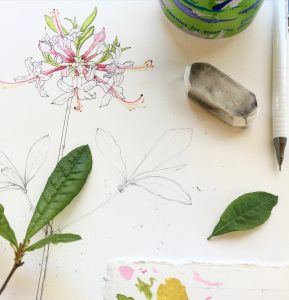 The Pinxterbloom Azalea, also known as Pink Azalea or Pinxter Flower, is a frothy pink and white species native to the Southeast. It's often found blooming near rivers or creeks, and a cluster of these shrubs grow wild at the edge of my pond. I must have checked the pond every day for a month this past spring, rather impatiently waiting for the first magical buds to begin to open. Finally, I cut a few flowers, leaves, and seeds, then brought them into my art room to draw.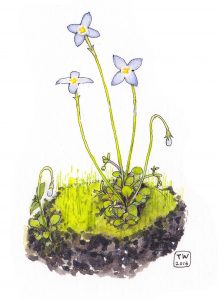 Ever since I was a child, I've been predisposed to wandering the woods daydreaming and drawing. The main difference now is that I've begun to study native plants and learn some of the rich ecology behind what I see. The Bluet, or Quaker Lady, is a charming native plant that grows amidst green moss on the poor, compacted, clay soil edging my meadow. Soils were once much more fertile in North Carolina, but years of over farming in the early twentieth century helped permanently erode away seven inches of healthy topsoil in the Piedmont region.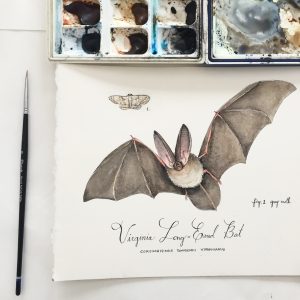 North Carolina has many endemic, or native, plant and animal species that can be found nowhere else in the world. They tend to live in vulnerable environments that face numerous threats. For example, Virginia Long-Eared Bats, whose diet consists almost completely of moths, are starved out when forests are cut down for wood harvesting or development. These little bats have also suffered from human explorations which disturb their fragile cave ecosystem. They are now listed as federally endangered.
As a young student I always struggled with math and science and suffered in those classes. Learning about botany and ecology has brought a whole new layer of meaning to art for me, as I use visual imagery as a portal into the scientific world.
Torey Wahlstrom's painting of the rare "Sandhill's Lily" is on exhibit at the Blowing Rock Art & History Museum until August 2016, and her newest work opens at the North Carolina Botanical Garden July 1, 2016. See more of Torey's work at her website.