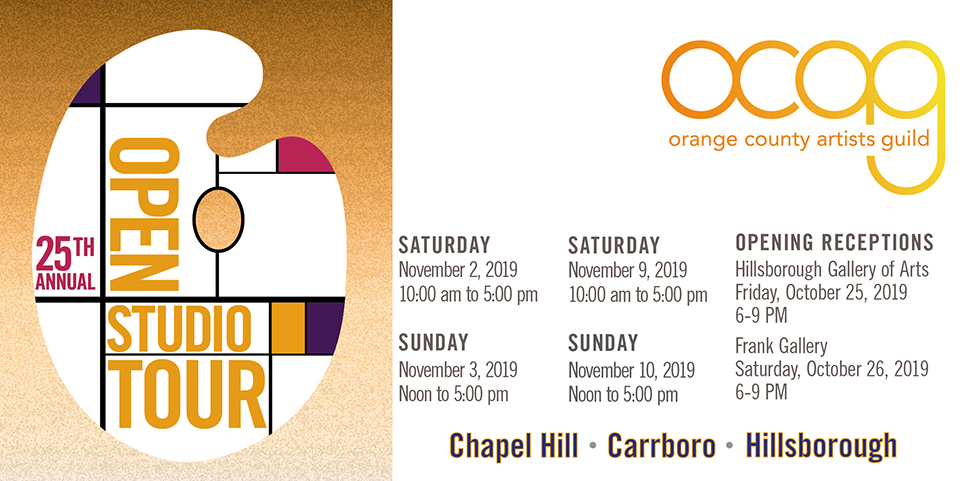 The 2019 Studio Tour will take place November 2nd-3rd and 9th-10th
Now in its 25th year, the 2019 open studio tour takes place the first 2 weekends in November. Saturdays from 10 am to 5 pm, Sundays from 12 noon to 5 pm. Free and open to the public.
Each year during the first two weekends in November, the potters, glass blowers, sculptors, jewelers, fiber artists and painters of the Orange County Artist's Guild open their studios to the public. This is your chance to view a working artist studio, ask questions, and shop for beautiful, one of a kind art. Now in its 25th year, the studio tour features over 90 local artists, covering nearly every artistic discipline and style.
With so many artists and only two weekends to explore, you will need a plan to see everything on your list. To plan your trip, pick up a tour brochure at arts organizations across the triangle, or download a copy from the website. This year, smart phone users can browse artists on the Orange County Artists Guild mobile website. Visit ocagnc.org to get started. Browse artists and plan your tour with turn-by-turn directions to studios directly from the website!
Brochures will hit mailboxes and be distributed around town in early to mid October.
Where to Eat, Drink & Stay in Orange County, NC
See it all in one place!
Not sure which studios to visit? Sample the work of the guild members at two gallery receptions: Friday, October 25, from 6 pm to 9 pm at Hillsborough Gallery of Arts (121 N. Churton Street, Hillsborough) and Saturday, October 26, from 6 pm to 9 pm at FRANK Community Gallery (University Place 201 S. Estes Drive). The public is invited to join us for the opening receptions at both shows. The shows are also free and open to the public during gallery hours.
Preview show dates
Hillsborough Gallery of Arts: Oct. 25 – Nov. 10
FRANK Community Gallery: Oct. 26 – Nov. 10
Opening reception dates and times
Hillsborough Gallery of Arts: Opening Reception Oct. 25, 6-9 PM
FRANK Community Gallery: Opening Reception Oct. 26, 6-9 PM
Stay connected to us on Facebook, Twitter, Instagram, or on our blog to see what members are doing year round.
The History
The Orange County Open Studio Tour was begun in 1995 by Monnda Welch, an enterprising jewelry maker then living in Orange County. Monnda was inspired by the highly successful Chatham County Open Studio Tour, begun a couple of years earlier. Initially unable to receive any help from local arts organizations, Monnda single-handedly promoted and organized the first Orange Tour. By 1998, the Orange County Tour exhibited 45 artists and had attracted loyal supporters, but it was a truly Herculean task to organize the artists and raise the necessary funds for advertising. So in 2000, Monnda turned the Tour over to the Orange County Arts Commission, who in turn initiated the creation of the Orange County Artists Guild. Guild members volunteer their time working in committees to accomplish the many tasks related to the Tour. The Open Studio Tour is funded only by artist member fees and small donations from the community. Thanks to the Arts Commission and to Monnda Welch for bringing artists together in pursuit of our common goal–making Orange County artists visible.
Making Orange County artists visible is not an easy task. There are an estimated 700-800 artists of all kinds in Orange County. Visual artists and craftspeople have relatively few opportunities to be seen and appreciated in the county. So the advantages of the Tour to the artist are obvious. Artists enjoy direct contact with supporters and gain a much wider exposure of their work. And Tour visitors enjoy meeting the artists in a casual atmosphere, viewing a wide range of the artist's work, and being able to ask questions about the artist's or craftsperson's process. In addition to seeing work the artist has on hand for the Tour, visitors are welcome to ask about commissions for larger works, serial pieces, portraits, or installations. This means a piece is made to order and may require a down payment and contract. Many artists are receptive to installment payment plans for more expensive works and often will allow buyers to take artwork home on approval for a few days.
Studio visitors always say they enjoy seeing the context and environment in which the work is made—how studios reflect the individual artist's character and perspective. They say that the educational and recreational value of the Tour is just as important to them as the opportunity to actually purchase a work of art to take home. Many are curious to get an inside look at what it really means to create a work of art from scratch. Others come for inspiration to actually take up an art form themselves. And the Tour is a great experience for children of all ages. The Orange County Open Studio Tour brings artists and the community together in celebration of the creativity and diversity of the arts in our area.
Contact
Contact the Artists' Liaison, Miriam Sagasti if you have further questions about the Tour or the application process.