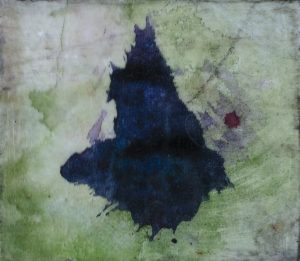 Last summer, I began painting with an artist group at a friend's studio. The tables we used were covered with white paper for protection of the surfaces, but by the end of two months the papers collected quite a mess of paint and marks. I didn't see the beauty in those papers until I participated in an artist challenge to create a painting using extreme cropping. As I slid an adjustable 2 x 3 inch mat over my table's paper, I noticed that many beautiful images started to appear. As the Crow Flies is a perfect example!

I felt I was suddenly a very skilled landscape artist. I couldn't have created the delicacy or spontaneity in Monet's Garden #2 even if I had tried. I photographed the tiny image and enlarged it for printing. I then encased the print in beeswax to create a collage. If only I could paint a landscape like this intentionally.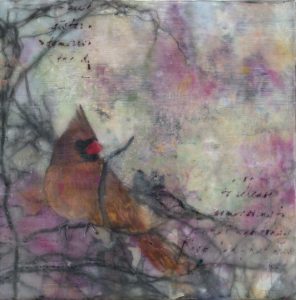 Some of the images begged to be under-paintings for my figurative work. In Early Spring Cardinal, I initially saw a cat in the tiny image but it didn't translate well when printed. After several months of gazing at the piece in my studio, I used beeswax to collage a cardinal image onto the surface. It began to take shape as I added more collage elements to the piece. Despite all the additions, the focal point ended up being in the area where the under-painting was most prominent.
I look for treasures in my trash now, collecting scraps of paper, tissue, and paper towels I've used in creating art. It may take several years but I always find the perfect use for them. Many times the trash becomes the treasure.
See more of Nancy's work at her website.