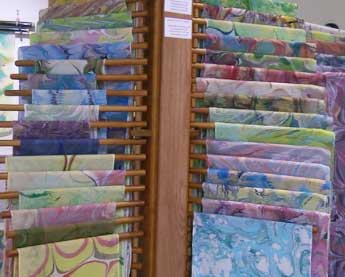 Marbled patterns on silk can be simple: ripples, swirls and shapes, or scintillating: cross currents of different patterns and colors sweeping across the landscape of fabric. I remain fascinated by the many different forms I can create and continue to be informed by the patterns found in nature, as seen in water, in the sky, and on the earth. My highly decorative art form results from a process referred to as hydro-printing.
A heavy viscous solution rests on a surface of water overnight. The next day, acrylic paints are dropped in concentric circles and then manipulated in various ways with a stylus such as a comb, or dripped upon to force a fissure in the shapes that lie on the water.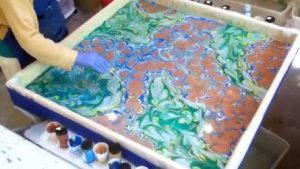 I have been creating these wonders in various forms: worn as shawls or scarves, hung as panels, or framed for presentation and proud display on the wall. Regardless of the form these beauties take, it's hard not to admire the decorative results. As your eyes explore these visualizations it is easy to get lost and feel transformed! See this link for a video of what you will see in my gallery during this year's Open Studio Tour! Or call me if you'd like an appointment. My number is 919-933-2891.
Because I am also a graphic designer (and web master,) I have pushed the envelope of my marbled pieces. After I have documented a piece in a photo, I sweep that file into photoshop and manipulate again by folding and mirroring the image digitally. I have found two ways to print these new wonders. One is printing the designs on canvas wrapped for display on the wall, below are a few samples. Because these are not original art they are more accessible in price. Each measures 16 x 20 inches.

The second way involves printing on fabrics, including cotton, linen and knits. For a sample of how this can look, I have sewn a few aprons and kimonos, modeled below. These will also be available for purchase at the upcoming OCAG Open Studio Tour.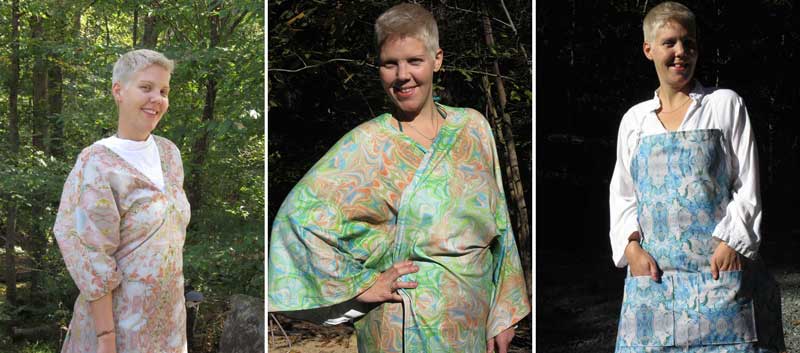 For those of you who enjoy sewing, I'd be happy to order fabric for your own creations. A perfect gift for a birthday or the upcoming holiday gift giving season. See this link if you would like to order custom printed fabric based on one of my designs! And see this link to view many examples of my marbled pieces and other fiber arts.