This spring I attended a class in marbling silk at Penland School of Crafts. It's something I had tried many years ago and wanted to swim back into again.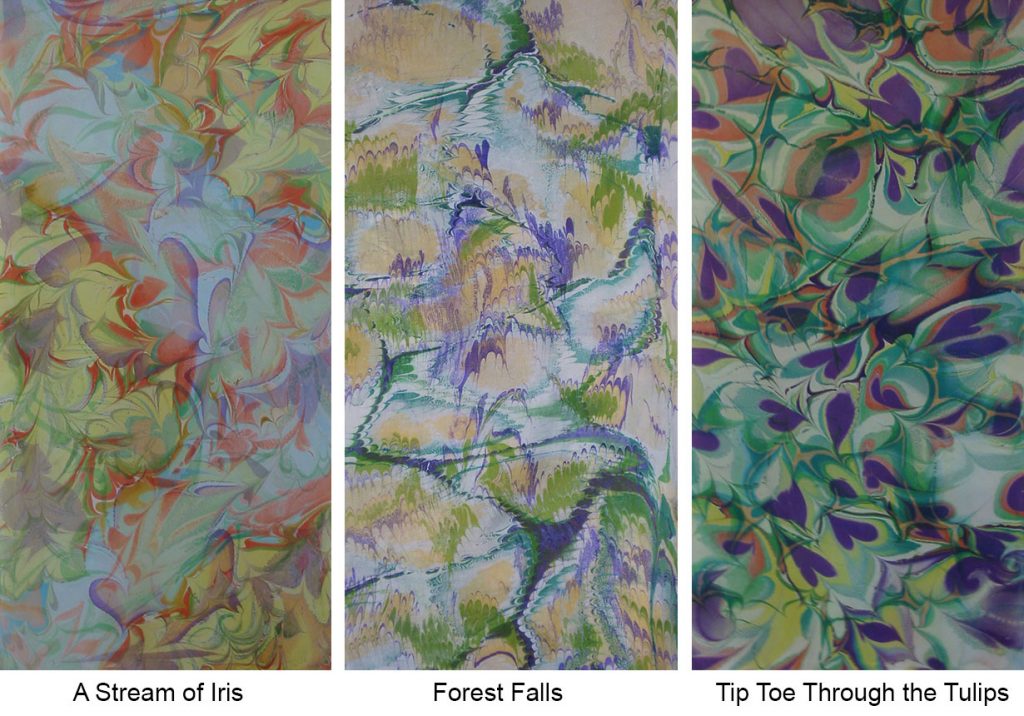 I say swim because you start by mixing up a very specific gooey bath. You carefully dissolve methyl cellulose into the bath so that a viscous substance floats on the surface. After adding household ammonia and vinegar, then allowing the mess to sit over night, you are ready to start having fun.
You begin by creating shapes called stones caused by dropping small drips of acrylic paint from an eye dropper across the surface of the bath in a pattern of your choosing. Then inside each expanding ring of  color you continue to lay other drops and watch as the shapes expand. Using a chop stick, you cut through the round shapes to create lines back and forth. Then, if you choose, by raking a comb over the surface you can make a traditional pattern referred to as nonpareil (this is what usually comes to mind when the word marbling is used.)
I love birds and the patterns of their wings. Anyone who knows my work, whether in fused glass or silk, has seen frequent depictions of birds. So, I intend to continue to explore this new approach and attempt to create more representative shapes for birds, trees, and flowers.
Here is a short video showing you some of the marbled samples I created at Penland. I aptly named it Marbled Motions.
To see a range of new marbled panels and scarves see this page of my Ferns and Fancy Art website.  While at that same site, make other page selections to see other arts and crafts by me, such as dyed silk or woven scarves, or even fused glass.
You can see more of my art videos at my media website Art Clips page.
By the way, Penland School of Crafts is located in the mountains of North Carolina, somewhat close to Asheville.