When I create my works with fiber I am inspired by the rhythms and patterns found in nature… waves of water, the ebb and flow of surf on sand, the flutter of leaves on trees, the swish of clouds, multifaceted buds and flowers, the feathered wings of birds.
No matter what materials I use, there is repetition as well as variation in both my process and form. My marbled patterns on silk or paper can be simple: ripples, swirls and shapes: cross currents sweeping across the landscape of fabric. I create these works in various forms: hung as panels or framed for presentation to display on the wall, or worn as shawls or scarves. Regardless of the form these beauties take, I am always intrigued by the results.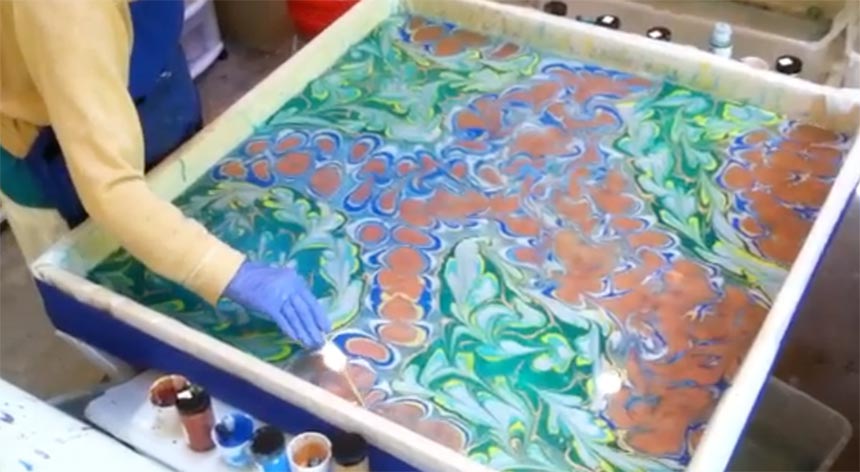 The decorative art form of marbling results from a process referred to as hydro-printing. It involves preparing a heavy viscous solution that rests on a surface of water overnight. The next day, acrylic paints are dropped in concentric circles, dripped upon to force a fissure in the shapes that lie on the water, then manipulated in various ways with a stylus or comb.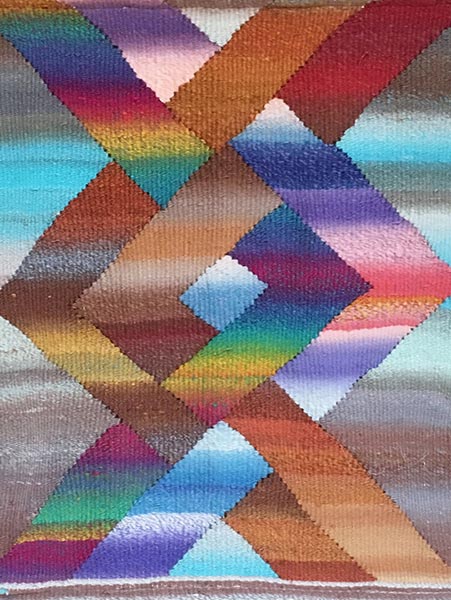 My woven patterned work is created by working with various types of yarn. I particularly like to work with yarn variegated in color. Sometimes my fibers are twisted and spun in unusual ways. I even incorporate various scrap materials from shredded rug selvages and saris. I create a range of shawls and scarves, as well as more complicated works to display on the wall. When a work of tapestry is complete it appears to float around a frame, or hang on a hand-crafted rod.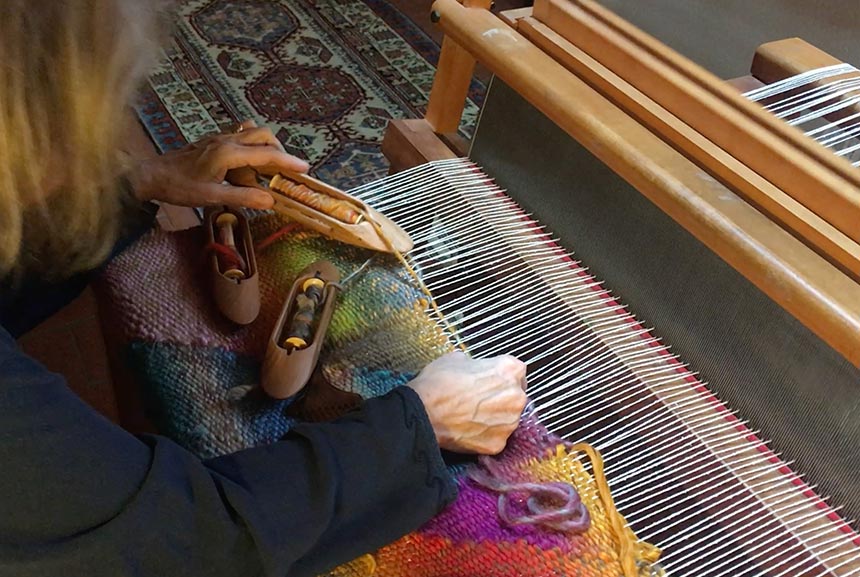 I begin my tapestry work by drawing a detailed design on a grid of graph paper where I sketch various shapes. To these I add color that represent the skeins of yarn I plan to use in different portions of the design. When I settle down to weave the tapestry planned I swipe across the loom and position weft that varies in color, texture and tone. As a result what one views is carefully planned but also contains random features that un-expectantly materialize in the design.