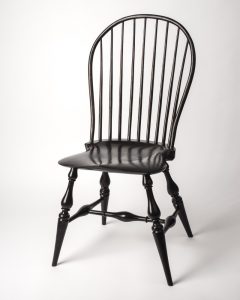 If you haven't had a chance to stop by Elia Bizzarri's shop in Hillsborough and meet him, this story might give you a feeling for one of things he enjoys about making and delivering his Windsor chairs.
Here is what he has to say about his craft:
With the delivery of each chair order, the customer gets a short, written story from me about the history of their new chair(s). The stories are personal mementos of the chair-making process; a moment in the chairs' birth preserved in words. My customers, Marshall and Jeffrey, picked up a pair of loop back side chairs recently. Here's a story about their chairs:
Blues artist John Dee Holman says he can sing the blues to make you cry, and I believe him. His half-brother is my farming neighbor, Mr. Dixon. Both were born in Hillsborough, North Carolina, nearly a century ago. John Dee has been singing the blues for the last seventy years.
Mr Dixon brought John Dee to visit a few months ago. I pulled two unfinished loop back chairs off the wall for them to sit in for their visit.
"These chairs you made?", John Dee asks.
"Sure are," I say.
"They're right nice. I couldn't afford a chair like this, bet they run a couple hundred?" Mr. Dixon adds.
"Closer to a thousand, I can't afford them either," John Dee responds.
"Huh?" Mr. Dixon says, who struggles with his hearing.
"A Thousand Dollars," John Dee repeats more loudly.
"Great-day-in-the-morning!" Mr. Dixon says with great surprise, "I oughtn't to set in a chair like that, I'd likely rise right on up to heaven!"
The men sat on my unfinished chairs for another half an hour talking about growing up splitting wooden shingles and fence rails, and about more recent troubles with their knees. Then they said their good-byes to me, shuffled back out to the car, and the farmer and the blues man slowly drove away down the drive.
To read more stories about my chairs check out my blog.
If you are interested in coming by, or finding out more about my work, see my website.
And here's a video that introduces you to John Dee as he is interviewed by David Holt and shares his background in singing the blues!