The idea for my new body of work was born during a figure drawing course I took last summer from the Ringling School of Art and Design in Wild Acres, NC. During the session, I collaged two previously drawn figures onto new surfaces. I loved the fresh start, but no ideas flowed for where to go next, so the two starts stayed dormant. Then finally, three months later, I pulled one of them out to complete an assignment for Luna Lee Ray's painting and collage class at The Arts Center in Carrboro, NC.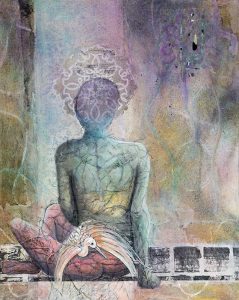 Luna's assignment was to develop a painting using the cruciform and to incorporate a photocopy of at least one textural image. The entire time I was throwing different objects onto my copier I was muttering," I hate this assignment, I hate this assignment. Luna loves it, and I hate it". After photocopying a bunch of sea oat roots, I had found on the beach, I experienced one of those creative leaps. The images rolling off the copier reminded me of my figure starts and I was fascinated by the texture. I decided to collage them on top of one of the dormant figure drawings. Eureka! I loved it.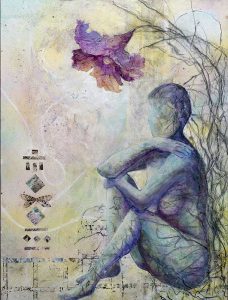 So the first painting was born — Birth of a Great Idea.  Originally, this painting did not contain color in the figure, only the background.  Still, I liked it so much; I started a second painting.  With this second painting, which you can see here at the left, I began to experiment by adding color to the figure and the flower.  There was a large open area and I considered cropping the image. I decided against cropping them, but rather added some texture using paint, and kept moving by adding layer after layer of transparent color. It reached a stage of feeling complete and I named it Garden of the Soul.  Then I felt ready to move on to the third painting.
This painting, Toward the Light, began taking shape using the same techniques.  One issue with the composition was too much empty space next to the figure, so I asked myself how I could make that interesting. I've always been in love with the idea of totems made out of scraps and found objects so I included one. Eureka! I loved the effect. I decided I must go back into the first two paintings and add totems to them as well. In the meantime, I started the fourth and fifth figure paintings. I added color to all the figures in the new paintings, and then went back to the first painting and added color to that figure. At this point, I had six incomplete paintings in progress and was starting to work on more.
I felt each painting informed the next, and the most exciting part was that I could go back in and incorporate the new ideas into the earlier paintings, without overworking them. My schedule helped me not to overwork as I had a featured artist show coming up in May. Thus, I completed five, re-worked paintings with the new ideas and varnished them. These first, five paintings have reached their destination, yet my journey using these new techniques and ideas has just begun!
Nancy is the featured artist at the Joyful Jewel in Pittsboro, NC from April 30th thru May 27th.  Find out more here. And you can also see more of her work at her website.