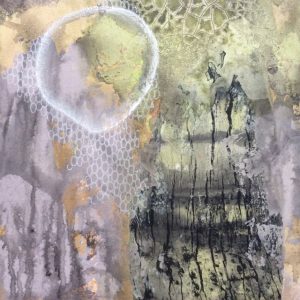 Every winter, my thoughts shift from the skies to what lurks underground. Dormant seeds and water channels were on my mind this past winter and I began a series of small pieces inspired by these thoughts. In this series, I focused on the idea of a seed, or a cell, and its micro-environment.
Soon after working on these pieces, I took a February trip to southern Florida, where I went to my favorite local nature spot: The Green Cay Wetlands near West Palm Beach. I had been there a couple of times before and had focused mostly on bird watching.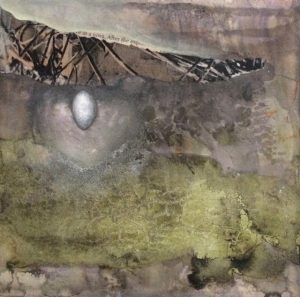 But, there was something different this year. The overcast skies and moisture in the air brought out a subtle beauty in the landscape I hadn't picked up on before. I took a lot of pictures, came home, then fully immersed myself in the pictures and my memories of the place.
In my next series of pieces, I used many of the same elements I had used previously, but felt compelled to organize them into a strata-like landscape format, inspired by the landscapes I had been studying.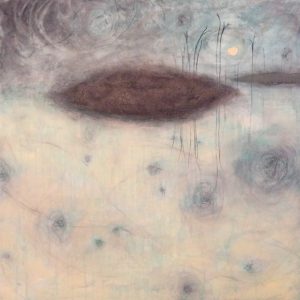 Over the last year, I have created a large and varied body of work inspired by water, land, sky, moisture, and light, ranging in size from 12 inches to 4 feet.
The recent increase in the scale of my work has allowed me to explore a sense of space and light in a deeper way. With every piece, I aim to express my interpretation of that original thrill of discovery, while continuing to let the images evolve.
Luna Lee Ray will be a featured artist at Frank Gallery March 8 through April 3rd. Also featured at this time will be fellow OCAG artists Keith Allen, Rose Warner, Natalie Boorman, and Pat Saling. You can see Luna's work at her website.