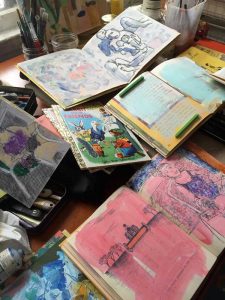 I work in a variety of sketchbooks of varying sizes in my art making. A few years ago I realized that hundreds of books were headed for the landfill, so I began reclaiming some of them as sketchbooks to work in. In the first photo I have arranged a number of them on a table top along with my usual helter skelter work surface. The first thing I do to make them mine is to gesso each page. I will usually do several books at a time as you can only do one spread at a time. I have tended to choose children's books because they have heavier paper and less pages but all types of books will work. Recently I have been reclaiming very large coffee table type books. I lightly prepare each page with white or other colors of paint, but I do not often completely cover the page or what was printed there.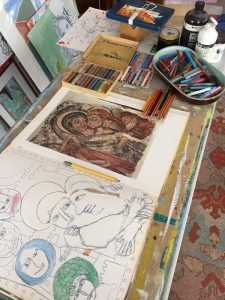 The second image that I have posted here is a large book on Romanesque art, at 14″ x 20″ it is among the largest books I have worked on. I am doing a drawing on the back of each page/plate that is a rough copy of the facing plate. I am adding my own iconography while keeping the main theme of the artwork presented. Like a lot of self imposed projects I come up for myself, this is part auto-biography, part jest, and part research in that I am really looking at how some past artist put together their style of art. This project will likely last for a number of years as I have to be in a specific mood to work on it. There are a lot of possibilities in using found books rather than commercial sketch books.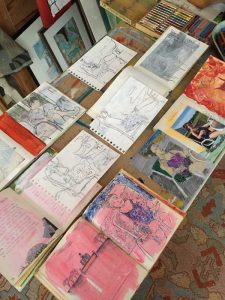 In this third image you can see how I have laid out a number of sketchbooks and also a couple of free drawings and one photo. In my figurative work, I will often see a pose I like for a variety of reasons and will snap a photo or sometimes sketch quickly if I happen to have pencil and paper handy. I will draw it into one of my pre-prepared sketchbooks and may end up doing the drawing several times in the same book. Or, I may feel like working on a certain pose and start from one sketchbook and transfer that pose to a different sketchbook. I may also use a drawing out of a sketchbook as a starting place for larger drawing or painting. However, I do not pretend to a logical or lineal process at this point, because I so much like chance and variance to run like a thread through my work.
See more of Steven's work at his website.