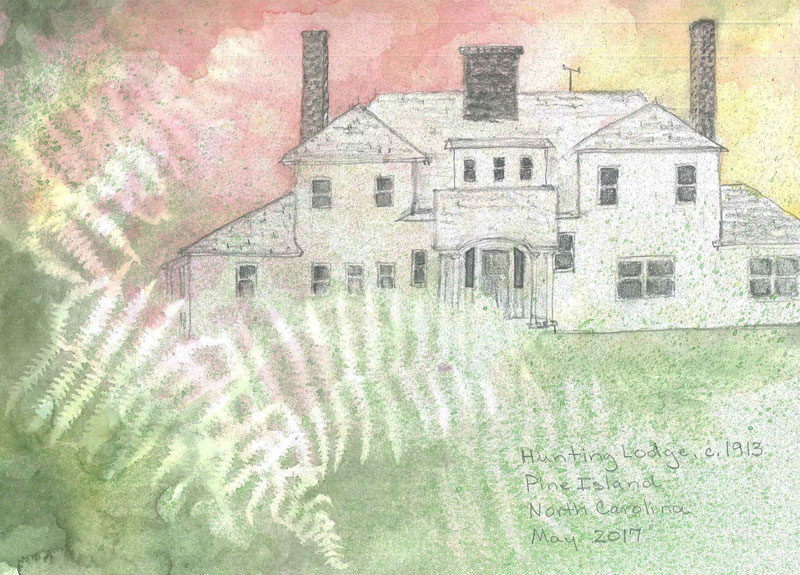 In May, I attended a weekend retreat sponsored by Pine Island Audubon Sanctuary to sketch and paint native plants of the Outer Banks of NC. I was one of a small group of eighteen participants along with 3 experts: a naturalist, a botanist, and a botanical illustrator.
We stayed in an historic hunting lodge built in 1913 that was gracious and roomy inside though simple in its furnishings. It had 12 bedrooms, a large kitchen and dining room, a living room with a massive fireplace, and a couple of servant quarters thrown in for good measure. The added touch of an antique goose decoy floating in the downstairs bathtub with blue and green glass stones scattered along the bottom assured me I was one with Audubon.
I discovered that botanicals are complicated to draw, and painting in the presence of a botanist has its own challenges. Naively, I assumed that plants were sacred to a botanist, so I was horrified when our expert pulled out her special pair of clippers and chopped off the end of a Pepper Vine. I was dumbfounded when she encouraged us to take as many samples as we wanted, even entire plants if we could carry them. That flew in the face of all those years of my husband's admonishment to "not pick the flowers". I walked around all morning tentatively gathering plants, sure the nature police were on their way to get me.
My relief when we began painting in the afternoon was short lived. The botanist was so excited to share her admiration of the plants that she couldn't resist picking them up even after I had carefully laid out their position for painting. She picked up Rush species I was working on and expounded on it enthusiastically, turning it this way and that to identify its parts, talking about the salt content of the water in which it grows.  Finally, I was sufficiently educated and she returned it to me. My challenge was to replicate the position of its original placement which wasn't so easy to do. Wanting to be true to botanical illustration, I didn't want to paint an incorrect number of leaves possibly inciting a frown from the nature police. Does a Rush have leaves? I'm not sure but don't ask a botanist if you're painting it.
Pine Island Audubon Sanctuary is a 2,600 acre piece of undisturbed land situated on Currituck Sound just north of Duck on the Outer Banks of North Carolina. The property stretches from the ocean to the sound and is one of the few remaining examples of the diverse flora and fauna of the northern Outer Banks.
See more of Nancy's paintings at her website.