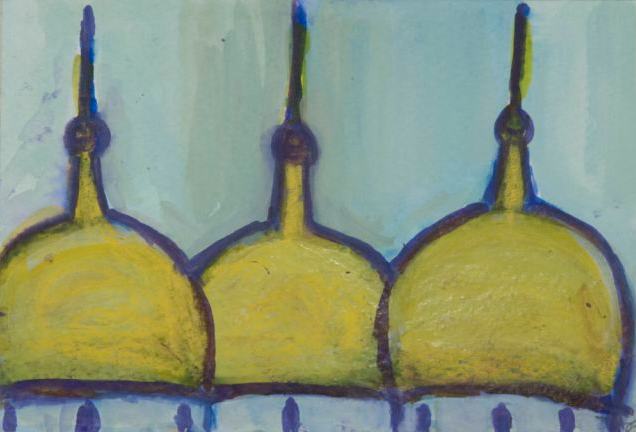 When one is confronted with a prize to take a trip "anywhere", it's a little daunting. As the recipient of a WUNC radio prize — I had the unusual option to decide where I might want to travel. My decision was to take a river trip named Waterway of the Czars and travel down a major waterway from Moscow to St. Petersburg. So this past September I embarked on this great experience with the intent of documenting it through drawings and paintings. This cruise was book-ended by four days each – in Moscow and St Petersburg. To connect these two locations, we boarded the ship named the MV Victoria and cruised down the Volga and Svir Rivers, and crossed Europe's two largest lakes which also make up this main shipping highway.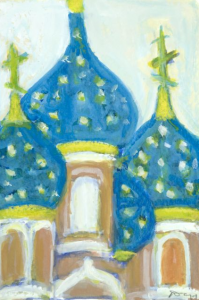 I am a plein air painter and seek to document the immediate. I have worked in extremely cold climates which has afforded me skills in quick sketching and painting. All this was helpful, as my latest show at FRANK attests, I was able to do a lot of work. Some of this work was raw in a world where cameras were often forbidden. On the longer spells along the Volga River I was able to document the scenery in a more leisurely fashion. My paintings at the river demonstrate this even though the boat was always moving. In the past I have worked while viewing a lot of moving boats, so the skills acquired under such unusual circumstances were helpful on my journey.
The images in this blog are part of my show at FRANK Gallery, which is on exhibit until February 3. This body of work captures the essence of my two week long journey. Something of note I wish to share is that this trip brought me into close contact with a lot of wonderful Russian people. Many of them were highly qualified art historians who worked as guides in the great museums of Moscow and St Petersburg.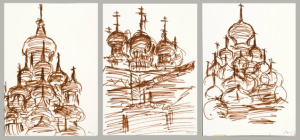 If any of you should win one of these prizes, make it into an art piece. It's a great experience!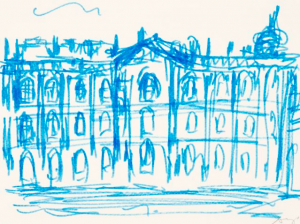 Here is information about the many events associated with A Journey in Russia artwork which includes the following:
 FRANK Gallery — Opening reception – with the Blues show — Friday January 11 6:00-9:00pm
FRANK Gallery — a FRANK fun(d) raiser — From Russia with Love and a Touch of the Blues –January 18th 7:00pm-10:00pm
FRANK Gallery — Nerys Levy talks about her Russian trip with music by a Russian pianist — January 24  – 6:00pm-8:00pm
 National Humanities Center — exhibition by Nerys Levy "Polar Worlds" which documents – trips to the Arctic and Antarctic along with works by photographer Ron Jautz, a New York artist. This exhibit is open until May 31st.
To see more of my work from the Russian Travels series as well as other work, visit my website.