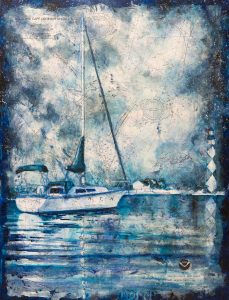 After much heartache, my husband and I decided to sell our 30 foot sailboat, Sea Otter, last fall. Our final vacation on the boat was to Cape Lookout, the southernmost outer bank of North Carolina. This trip was memorable as neither of us almost died and nothing on the boat broke. We didn't even run aground once.  Despite all this, the highlight of the trip was our experience on the sound side of Shackleford Bank.
One morning, we rowed ashore from our anchorage and leisurely strolled along the shore to the sound side of Shackleford.  As we sat down for lunch, out of the brush walked 6 wild horses. I was a little intimidated as the horses, though smaller than domestic breeds, were very stout and seemed not to be skittish of us in the least. In fact, the stallion appeared curious and started coming towards me.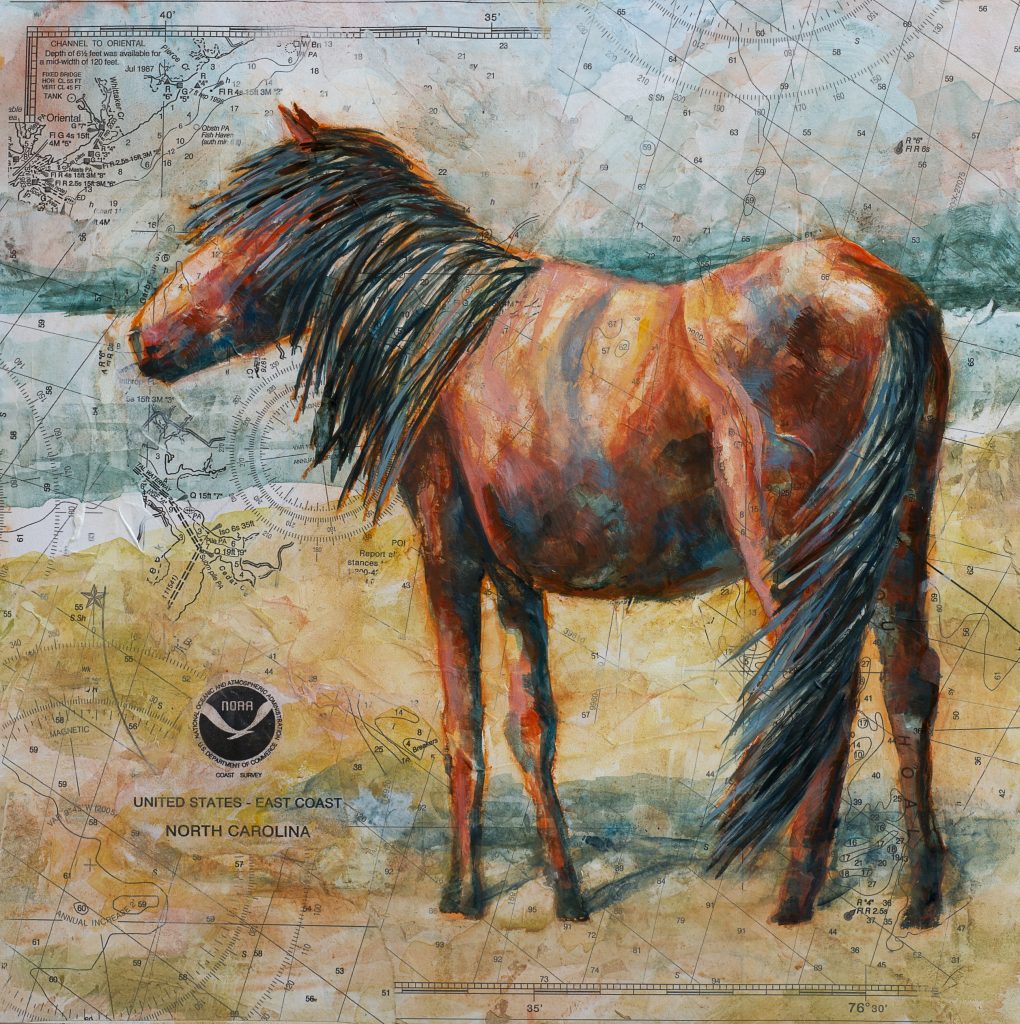 Luckily, I have excellent skills at maneuvering away from curious four legged creatures (deer), especially if I have some apples to throw in their direction.  This time, however, I was only equipped with a peanut butter and jelly sandwich. It was a long way back to the boat, so I held onto my sandwich and took my chances. Fortunately, the stallion decided that his usual diet of estuarial grass was more his taste for the day than what I had to eat.
As my husband and I continued walking along the mud flats collecting mussels for our dinner, we came upon a second group of horses. They weren't disturbed and continued eating, allowing us to walk amongst them as if we were part of the herd.  I was snapping pictures the entire time and was thrilled that Cape Lookout Lighthouse was visible in the background. I had always wondered where photographers shot those pictures. Now I had my own.
I'll never forget the incredible sense of space in this place: the vast mudflats and the wild horses under such an enormous sky. It was a timeless place, purely Nature made and unspoiled by human hands. It was a gift of Soul.

I have been painting this place and these animals ever since I returned home nearly a year ago. This experience so filled my heart that I want to keep expressing it over and over. I'm sure one day I'll get it out of my system and I'll move on to another topic, though I'm not rushing it. For now, I'm content to keep expressing this experience until I've had enough.
Nancy is the featured artist at the Joyful Jewel in Pittsboro, NC the month of August 2013. Her work featuring Cape Lookout, NC will be on display at her studio as a part of the Orange County Artist Guild's Open Studio Tour 2013.