It is truly amazing:  2014 is the 20th year that Orange County has been offering its Open Studio Tour. As you have come to expect, you will find artwork and fine crafts in a wide array of mediums. Some of you will choose to visit artists that are already your favorites, while also visiting the studios of new members. To pique your interest, here are pictures of tour activities and descriptions by a few members about their experience being on the studio tour.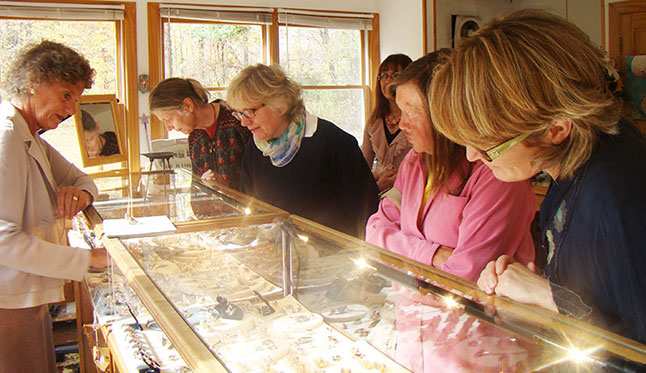 Nadine Zenobi, a jewelry maker, explains why she enjoys the guild: "When I moved here from California 12 years ago, the tour was the first showing I did in this area. I loved it from the start and it has grown each year in the number of artists exhibiting and the experience it has become. Working together as artists to make the Tour happen helps us to better know one another. It's a great experience to be in this guild, and a wonderful journey for the artists as well as the visitors who explore the studios." For samples of her work, see Nadine's page at this website.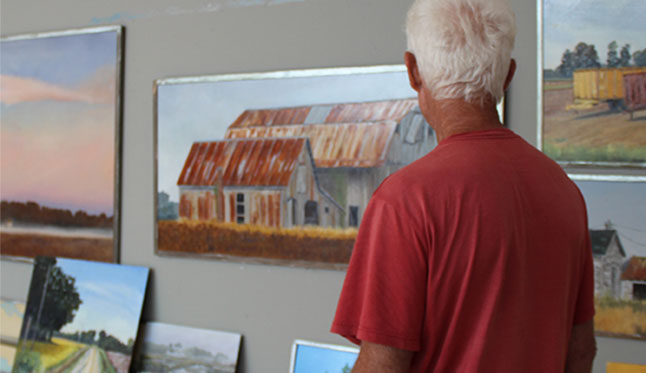 Carroll Lassiter, an oil painter of landscapes, talks about being part of the tour over the years: "The Studio Tour is a great opportunity to come face to face with the audience. As I have been a participant for nearly all of the twenty year history of the tour, I see familiar faces returning and meet some newcomers each year. November always finds me scurrying to complete work, get it framed, and clean up the studio. I am looking forward to sharing new paintings of North Carolina, my 2015 calendar, and a new crop of note cards." For samples of her work, see Carroll's page at this website.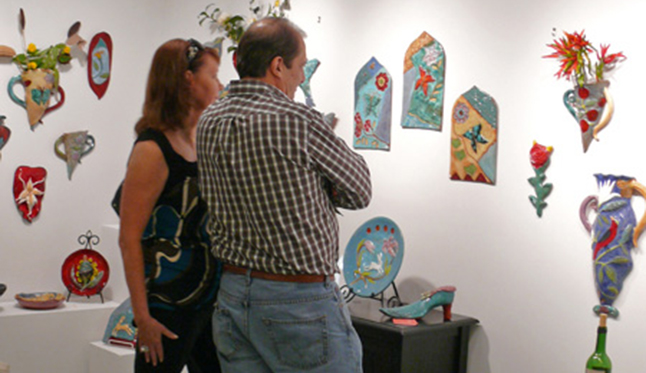 Cathy Kiffney tells of her history with the Tour: "It's hard to believe that I have been participating in the Orange County Artists Guild Open Studio Tour for twenty years! I've always been a prolific artist and the OCAG Tour is a great way to sell my work while I meet people who collect and admire art. The Tour is unique. When people come to my studio they see all of my work (not only my newest work) but experimental work, test pieces, and my ever-popular discount table! In no other venue is this possible!" For samples of her work, see Cathy's page at this website.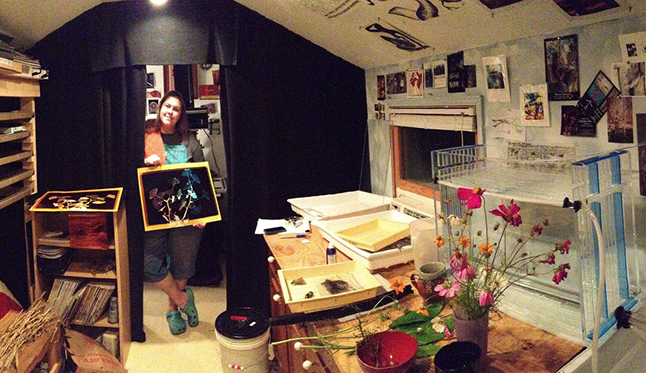 Jamie Hagenberger talks about how she shares her darkroom with visitors: "My darkroom is a small shed in my backyard. It holds 3-5 people and despite the challenges of taking groups out to it,  I really like showing people my darkroom when they come visit. Most are surprised at how small an area I work in. Even though I can't demonstrate my process exactly, I leave work out in the different stages so that visitors can see the process and get a feel for how it works when the lights are off. I convert my living room into a gallery so visitors can make themselves comfortable while they explore my images and nibble on a snack." For samples of her work, see Jamie's page at this website.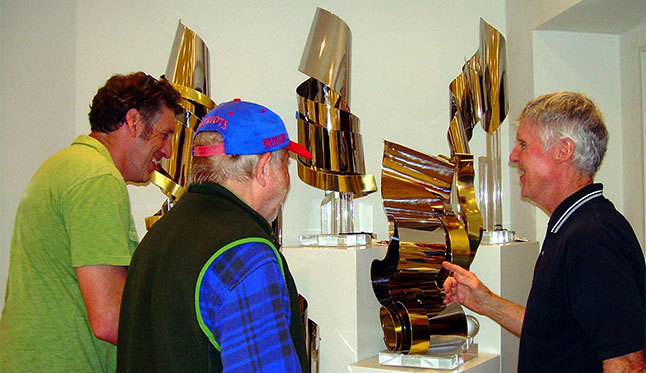 Dan Murphy notes:"The Tour is exciting, I am told, to the art loving public.  I know it is exciting for us, the artists.  Most of my time is spent creating abstract 3D shapes, and there is a 'rush' when a design 'gels.' But that may have been preceded by hours, days, maybe even weeks of tedious working and reworking ideas…not to be labeled as excitement. Excitement revisits me, though, when the public comes to my gallery for this wonderful annual event, and I see reactions.  I use mirror finish stainless steel and  gold & silver colored anodized aluminum, forming it on equipment that I designed & made. There are 40 – 50 gleaming sculptures on display in my gallery waiting to 'see' the public! For samples of his work, see Dan's page at this website.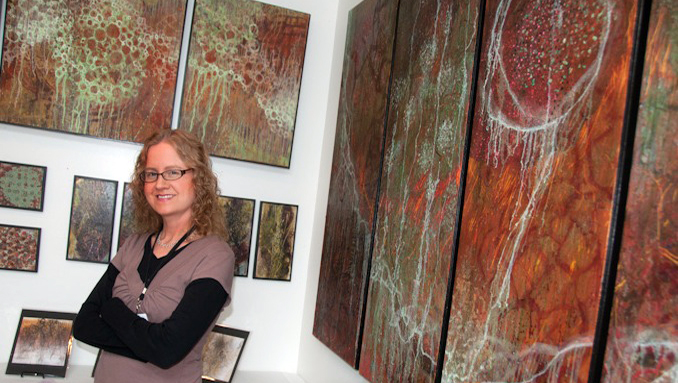 Mixed media painter Shelly Hehenberger talks about sharing a studio during the tour: "This will be my 3rd year sharing a studio with artist Luna Lee Ray for the tour. Visitors are also enchanted by the lovely setting of Luna's studio and her beautiful gardens. We both show a variety of our work as well as our collaborative paintings. I have been working as a mixed media artist for 25 years and enjoy talking to people about my process of combining oil paint and mediums with cold wax medium and other natural materials such as sand, resin, and chalk. Luna also works in mixed media so our work goes very well together." For samples of her work, see Shelly's page at this website.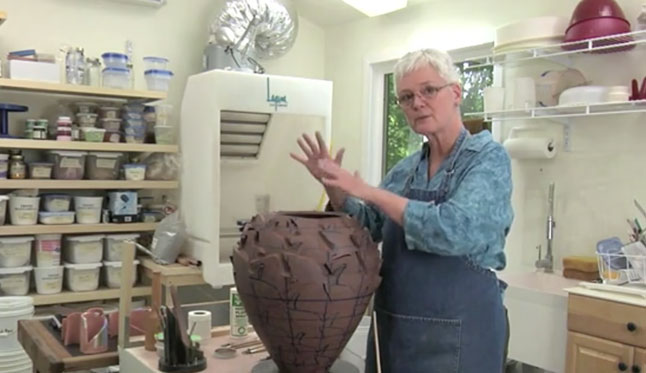 Judith Ernst shares her thoughts about the Tour:  "Early November is usually a stunning time of the year in Orange County. My studio is off my lower deck, surrounded by fall colors with a backdrop of the Carolina blue sky. I display my large ceramic pieces outside, and the bright sunlight creates deep visual contrasts making the colors of the glazes in my sculptural ceramic work pop beautifully! I love to photograph them when displayed outside during the Tour. In addition, there's always a piece in progress in the studio so that I can better explain my complicated sculptural techniques to visitors." For samples of her work, see Judith's page at this website.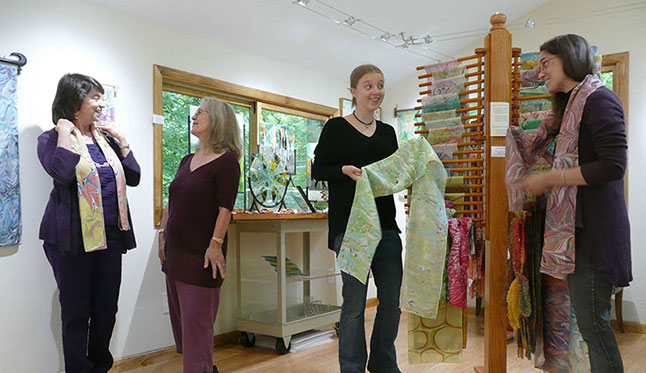 Trudy Thomson, a fiber and fused glass artist describes her new gallery space: "I have been on the tour since 2002 but this past year my husband built a small gallery space at the edge of our hill that overlooks the creek. Visitors have remarked about the beauty of the space. When they step inside they see woven and marbled silk scarves, shawls on swinging racks, and framed silk panels on the walls.  The light streams in through my fused glass work which I call "Scapes". With autumn leaves framing the scene it is a magical place." For samples of her work, see Trudy's page at this website.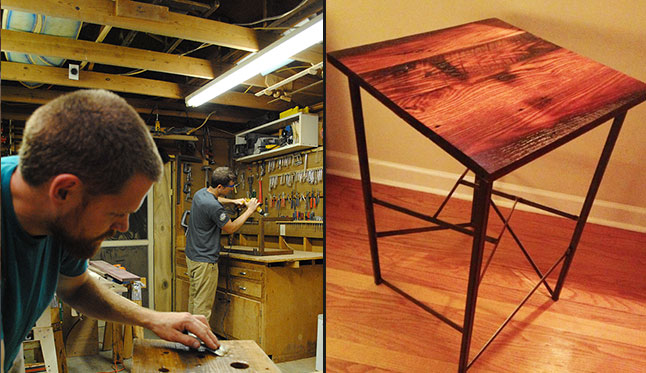 Five Fork Studio is participating for the first time this year. Michael Everhart, a woodworker, and Will Stanley, a metalworker, will showcase the furniture they build collaboratively: "Our work combines wood and metal with an industrial aesthetic and an eye towards practical design. Many of our pieces are built with local hardwoods and raw steel, but we also enjoy using reclaimed wood from an old barn, or steel such as old pulleys from a factory. In addition to finished pieces at this year's tour, we will have projects and materials in a variety of stages of completion to illustrate our process. For samples of their work, see Five Fork's page at this website.
For more details about the tour, including the dates and times during which you may visit artists participating this year, see this page of our website. Also, to find your way to various studios and sites, here is a map that can be printed.