Honoring the Past and Present Members of the Carrboro Branch Library Art Committee
Over the past eighteen years the artist run Carrboro Branch Library's Arts Program has shown the work of over 1,750 local visual artists in over 60 exhibitions, won two Frances B. Reid Awards from the Friends of North Carolina Public Libraries, and won a national award from the Friends of Libraries, USA.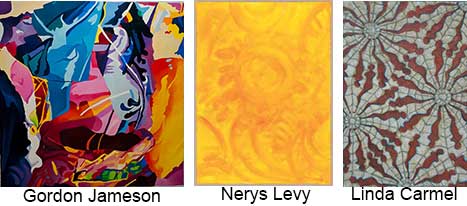 The exhibition Then and Now honors the work of past and present Art Committee members whose turn it is now to adorn the Library's Community Gallery walls (also the walls of the McDougle Schools Media Center). The artists' work is as diverse as the history of the program, ranging from fiber to large paintings to photography. OCAG artists included in this show include Alice Levinson, Louise Francke, David Taylor, Nerys Levy,  Linda Carmel, and Gordon Jameson, who is the installer. You can see samples of their work in this article!
The Carrboro Branch Library/McDougle Media Center is one of the largest and most traveled art spaces in Orange County, financed over the years by in-kind donations and grants from the Friends of the Carrboro Branch Library, the Orange County Arts Commission, Strowd Roses Inc., and the Fowler Foundation.

Every good arts program must have artists who span a large variety of artistic skills, but this group has also produced many theme shows on culture, religion, nature, local issues, children's work and more (hence the many awards).
In short, the program has acted as an exciting curatorial incubator for artists, many of whom have moved on to take other positions in various local art programs and guilds, including OCAG. We are always looking for new Art Committee members who have fresh ideas, and we hope that a visit to this exhibition will generate interest from OCAG members. Committee members get to learn about the art business and how to operate in a mixed use space. With the advent of the proposed Southern Branch Library to replace the Carrboro Branch Library in 2017, the Art Committee is embarking on a new journey. This will include planning the new art space in the proposed new library and then running it. We always deliver excitement! Contact Nerys Levy for more information rilevy@mindspring.com
This show runs February 15 to February 22, and the reception is Sunday, February 15 from 2-4:30PM.