Center/Gallery thrived in the heyday of the Women's Art Movement. Most active from 1977 through 1984, it was the NC Triangle's response to Feminist Art, a center for creative energy, public statement, and enthusiastic expression of women's experience. Even though it no longer has a physical space, many of the group of supportive peers has kept the spirit of the space alive. It is not surprising that five OCAG members have been part of this group, from nearly its inception.
This month the Carrack Gallery in Durham will be hosting a show for Center/Gallery that is entitled, The Feminist Legacy and Future. Join us at the reception March 20th 6 to 9 pm. Help us celebrate Center/Gallery for the focus and trajectory it gave to our art, our careers, and our lives as well as the impetus to others who enjoy creating art.
Here is a short description about what our OCAG members will exhibit at this show…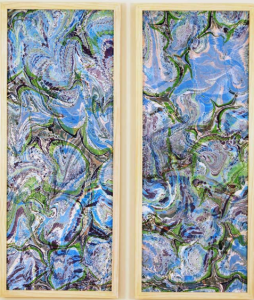 Trudy Thomson will have one of her new diptychs on display, which is a vibrant multi-layered highly decorative piece. She comments on the process she uses to work with this medium, " Marbled silk is a new excursion of mine into working with fiber. It is frequently referred to as hydro-printing because one creates a pattern on a most tempermental methyl cellulose surface that suspends itself above a water bath. Various drops of acrylic paint are carefully positioned as concentric circles onto the bath and then manipulated with combs, a stylus, or other devices. The silk is carefully laid down from the center out to the extremities. The silk with an image is pulled off of the bath and hung to dry, then later subjected to heat to fix the design. This piece like many others created as marbled silk have more than one layer, so what you see shifts your view, so to speak."
Barbara Tyroler describes her Beijing Impressions series as visual response to the memoirs of Lin Bai, a Chinese essayist who wrote during an era of political repression and prohibition.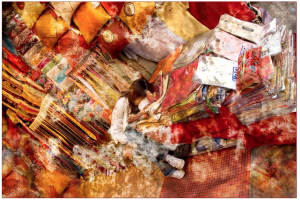 Barbara comments: "My Silk Nap piece is a response to the rapidly changing political, economic, and social upheaval confronting the working class and migrant populations. It explores intimacy, belonging, and transition, in the context of contemporary Beijing, in an era of cultural transformation. At the Carrack exhibit there will also be a triptych produced by Samm Sacks — a China scholar, collaborator, and mentee. The original text that inspired these pieces refers to "the Bai's indulgence with the sub-conscious and her candor in expressing feelings of such private intimacy within a society of emotional suppression."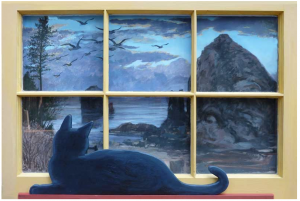 Emily Weinstein describes how this piece relates to the path she has followed as an artist: "This piece includes what I was creating then, afterwards and now. At the time Center/Gallery was in full swing, 70's to mid-80's, I was painting pet commissions; towards the end and continuing I made ensembledges within shadow boxes and windows. Currently I mostly teach and paint plein air. I'm in the 6th year of my 25-year Handmade Book series which will follow my art until age 80, within different book structures, using unusual and recycled materials. I make 50 each year; subscriptions still available!"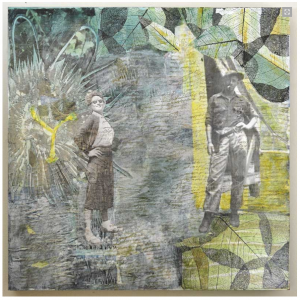 Hollie Taylor's mixed media artwork includes vintage photographs, maps, and correspondence in her new series on her parents years in Brazil during WWII.  Having discovered 98 letters in a dusty attic trunk written by her father to her mother from the Matto Grosso of the Amazon river basin, she was surprised by what she learned. Hollie says "Apex and High Point depict each of my parents at the peak of their lives; Dorothy, from Apex, NC, creatively flowered in the post war years she spent in Summerville, SC painting watercolors of low country South Carolina. She was in her leadership power while serving as Summerville Art Society president.  Mark, from High Point, NC, is shown in a photo from his campsite where he used his NC State Forestry Masters during '43-'45 locating and shipping out rubber for the allied war effort."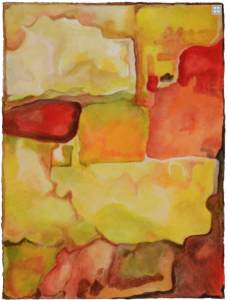 Louise Francke comments on her recent work: "For those who remember my early surreal works, I believe that I no longer feel the need to make myself happy or resolve my psyche's depths. Life moves on and one's thoughts and direction change or shall I say mellow with age. My new direction attempts to capture moments of light in abstract paintings or mono prints. They are defined by the time of day, the seasons, the location and weather conditions. Horizons may be insinuated but sometimes are difficult to locate because they are often not continuous within the composition. The landscape is dematerialized into abstract forms and shapes. For me it is all about the substance of things with representation. Hopefully, my paintings might resemble one phase in a kaleidoscope where the abstract patterns are momentary and change with a twitch."
Note that the Carrack is located at 111 West Parrish Street, Durham NC, 27701. The show runs from March 16th to 29th, 2015.