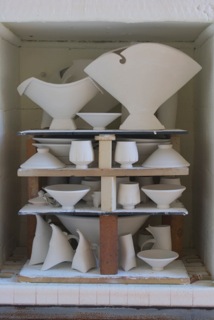 My studio is located on Dairyland Road, and for the past year I have shared my space with Erick Serritella, who is a nationally recognized sculptor and ceramic artist. It has been a new experience for both of us and we have learned a lot about our work and built a nice friendship. Sharing the studio has worked out just fine. One thing that has helped to make it work is that we fire in different kilns, which creates some of the differences between the look and feel of our work.
As a porcelain potter, I fire in a gas kiln to a very high temperature and make quite a lot of pots. To the right, you can see a load of pots placed into the gas kiln before glazing. I work exclusively in porcelain and make both pottery and sculptural forms. I am continuously developing new glazes which I fire in my gas kiln to create the wonderful surfaces that are unique to high-fire porcelain. I have been working for several months to prepare for events in Nashville, Illinois, and now finally for the Orange County Studio Tours this weekend (November 9-10).
Our studio is a passive solar building that has great, natural light and is very efficient for both heat and cool because of its design.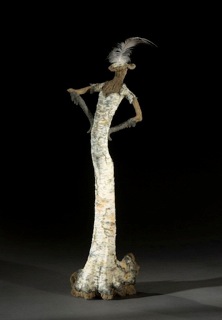 Eric is a sculptor who also works in clay, but makes fascinating pieces that look like they grow from birch trees. His ability to develop realistic, bark-like surfaces is amazing. Eric works with stoneware clays that are various colors to help build up the surface and texture. He then works with an exacto knife to carve the bark relief. Eric had a solo exhibition in New York this past summer, and he has just returned from 'SOFA' in Chicago, from a major exhibition of 'Sculptural Objects and Functional Art'.
Ceramics Monthly magazine did a  six page article about our shared studio space that can be seen at this link.
I hope you can come by our studio during the Orange County Studio Tour. Our studio is #19 this year and located near Calvandar.
Also, here is a link to my website.