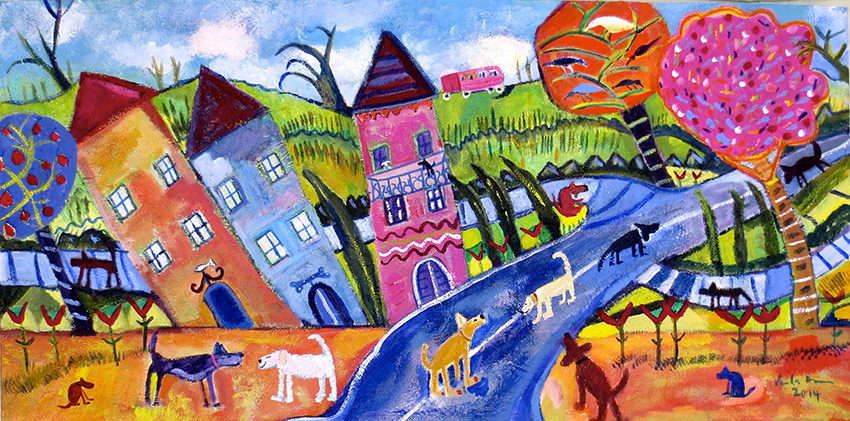 In the mountains of Millboro Springs, Virginia is an artists' and writers' resort area that has been a creative refuge for many years. Originally built in 1783 as a stagecoach stop, Camp Nimrod/Nimrod Hall has been a summer resort for people from all over the world since the 1930's. There are seven buildings consisting of the main house that acts as both cafeteria and creative work space, 5 guest cottages, and an additional 8 bedroom/2 bath house. Here can be found as well the beauty of the mountains, a river, and a spring-fed pond for swimming. History tells us that writers and artists have been coming to Nimrod for nearly one hundred years, and this will be my fourteenth.
I am not usually a plein aire painter, but I love the wide porches and green lawns to set up an easel and paint away. If weather is bad the old post office has two rooms which take in the painters that seek shelter from the rain. Many artists who come are from Richmond, Va., home to the camp owner and one of its teachers, Laura Loe.
You can sign up for a week or a weekend and enjoy the company and enthusiasm of two dozen other artists and writers. I generally drive up on a Sunday and return on a Friday, spending the week doing nothing but paint, eat, sleep, walk, and talk with like-minded people. How luxurious! Unless I am doing a commissioned portrait, my painting process is different from most painters at the camp because I work mostly from my imagination. I love to start with nothing more than a blank canvas or paper and see where my mind takes me.
My process differs from painting to painting. Sometimes I begin with a rich array of textures, or create an under-painting in a variety of colors, while some days I simply tint the canvas a neutral color and go from there. I love to use bright color so much of my work involves unmixed color used directly from the tube. However, I also enjoy mixing new colors, trying out unlikely color combinations, and discovering colors that sometimes work unexpectedly. Acrylics are my medium since I am too impatient for oils,  but I'm also interested in watercolors. I like to paint quickly and acrylic-based mediums lend themselves to this because of their fast drying time. Last summer, I went out of my comfort zone and took a class from a landscape painting teacher named Sara Linda Poly, whom I had known for many years. Since then, I have been creating landscape paintings as well as my usual color paintings.
Landscapes and skyscapes are an exciting challenge to me, and spending time at Camp Nimrod has encouraged me to keep going with this work. I hope you will consider spending time there as well, always time well spent! Click here for more info about this resort.