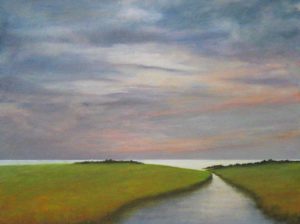 On NPR some time ago, I heard part of an interview with someone who was discussing a depression era photographer by the name of Walker Evans. He quoted Mr. Evans as saying, "the truly hard part [of photography] is capturing the light in the air."  I realized in that moment that this is exactly what I am continually trying to achieve when I paint.
I am primarily a landscape painter and I mostly paint from memory. At times my work is pared down representation, and at other times it is abstract.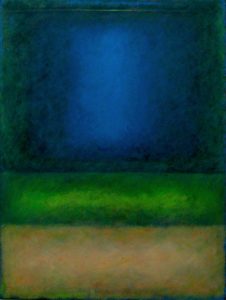 Regardless of the genre, my paintings are all representations of light and atmosphere. I seek to explore the many and varied faces of the physical world, and to capture the ephemeral nature of light at a moment in time.  I strive to transcend the subject and capture a mood that is timeless. Each piece begins with a loose idea that evolves gradually and intuitively as I build up the surface layer by layer. I always have an idea of what I want to explore, but find that at some point the painting takes on a life of its own and I'm never sure where it will end up. However, I always strive to discover and convey the essence of the subject and to create exciting, thought provoking visual metaphors that celebrate the incredible beauty and diversity of our world.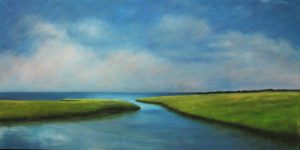 When I'm not in my studio, I love to listen to music, to read, to be in the outdoors, and to travel/learn about other cultures. I've traveled to all 50 states and to 22 different countries (if I had my druthers I'd travel perpetually. There's so much more of the world to explore!) But where I go to get renewed is the tiny island of Ocracoke off our NC coast. Bounded on one side by the Pamlico Sound with its beautiful, vitally important marshes and on the other by the magical, ever-changing Atlantic Ocean and thirteen miles of pristine beaches. Ocracoke is a special place. It is a place to heal, to relax, and to find one's center. Paradoxically it is also where I go to get reenergized, where I feel most alive, and where I find inspiration for my work.
To me, the concentrated stillness of making and manipulating marks on a canvas is a form of meditation.
See my upcoming show at: HillsboroughGallery.com (phone: 919-732-5001). The show is up from 9/23-10/21, and the opening reception is Friday 9/27 from 6-9.
To see more of Lolette's work go to her website at: loletteguthrie.com