As an artist I am always looking for ways to fund my next project. The need for supplies, inspiration, a place to work and an audience are constant in an artist's life. So we are always hungry for info about grants, fellowships, workshops, residencies, a new show or gallery…anything to get our art out there for the world to see. Ideally it means a little bit of money coming back our way.  But what about Grassroots fundraising (or crowd funding)? Is it wrong to flat out ask for money? In today's world it seems a bit brazen. Our collective social fear of being ripped off would seem to make simply asking the direct question a bad way to go. But apparently it is exactly the right way to go about it.  The Internet and social media have made it possible for ideas to spread like wildfire and art is no different. What's more, the world seems to be embracing funding the arts in a very direct way because an individual can give a very small amount ($5) but still make a real contribution and become connected with art and artists around the world and in the local community.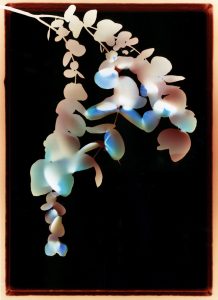 Kickstarter.com and USAprojects.org are two sites that focus on the creative and artistic communities but there are many others websites that are doing similar things in education, science and other areas. Each site handles the financial side of things differently and caters to a slightly different demographic of artists (or project creator) and supporter.
First, in Part One of this blog article, I'd like to talk about Kickstarter.com since I have the most experience with it. Food, comics, games, techy gadgets, light shows, music, movies,  art and much more…it is all there for the public to get behind. I stumbled onto the website after doing a pretty generic web search for funding opportunities in April of 2010. I watched how it worked and backed a few projects and then, in the fall of 2010, I launched my own project called Darkrooms and Bright Ideas.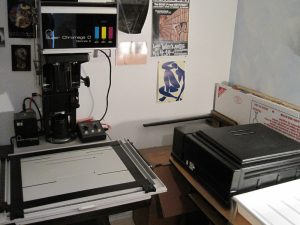 To my great delight, I raised $8,000 in 45 days to fund the renovation of my backyard shed into a color darkroom. Kickstarter, as do most sites like it, provides an easy way to set rewards for different funding levels, a  blog area for you to post updates (public or privately for backers), and makes it easy for people to share your project on social media.  The financials are handled by amazon.com and the funding is all or nothing (meaning you have to hit your goal or nobody gets charged and you don't get any money). If successfully funded, Kickstarter does take a 5% commission on the total funds raised and amazon does take a small piece for processing payments. In the end the artist ends up with ~90% of the funds they raised.  Since finding Kickstarter, I have backed over 24 projects (not all of which were successful) and 72 people backed my project from my own family to random strangers in NC and as far away as Australia.
Several local organizations have also successfully funded projects on Kickstarter and it has made a real difference in our community.
Check out these recent local projects by:
See Jamie's Blue Nandina Studio facebook page at: http://www.facebook.com/BlueNandina
And see Jamie's art work Jamie's website.
And check back for Part Two of this informative article.