My day started out by catching a field mouse in the house. Thankfully, the animal was unhurt, and I did not need to take it to a place  like Triangle Wildlife Rehabilitation Clinic. This wildlife hospital that had served the entire Triangle had to shut down. Many have listened to me lament over this heartbreaking loss.  Now, prior to spring, is the time to ramp up the advocacy for this necessary clinic. I usually hold an annual benefit for TWRC in my home-gallery, but this year I was fortunate to find a new venue for the annual benefit:  the Chapel Hill Art Gallery. Via e-mail blasts and a few well-placed phone calls to friends I made a list of 15 artists; then another list came in from the Chapel Hill Art Gallery representative for 15 more! Digital images with applications kept coming, deadlines ignored. The cause is great and now we have a great deal of art pouring into the Chapel Hill Art Gallery. It is very exciting, beyond Christmas, Hanukkah or Kwanzaa.  Final count  is 52 participating artists. Prior to the arrival of all the art, the Chapel Hill Art Gallery  members repainted the entire interior, changed the signage, and installed a new hanging system. The list of participating OCAG artists is impressive.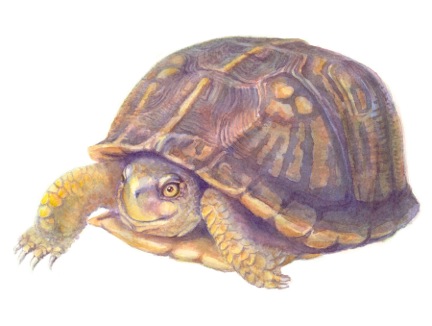 Dale Morgan, well known for her watercolor renderings of wildlife, has brought in this piece which is a portrait of a large box turtle.
Dale has titled the work to the right Happy Turtle.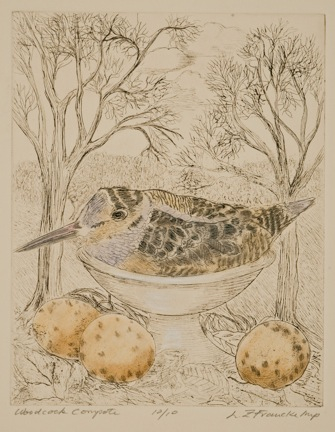 Louise Francke has loaned her own art bins to the show with over 50 hand-pulled prints.
Ms. Francke's sensitive interpretations of animals of all kinds are affordably priced, so do not overlook the generous offerings in her art bins.
The image at the left is titled Woodcock Compote. It is a hand-tinted etching and measures 8 x 6 inches.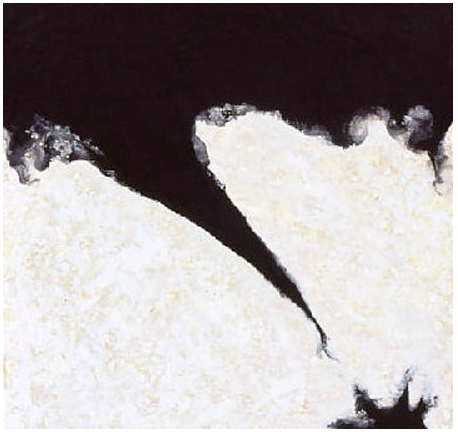 Martha Petty is both an artist and a wildlife rehabilitator.
She chose three of her tornado encaustic paintings, small delicate rich rapturous winding wind images.
Here is just a sample of what she has in store for you.
The picture to the right is entitled, Study in Black and White Eight.

Linda Carmel says, "My paintings are luxuriously undulating surfaces of color that are an invitation to the viewer to touch with their eyes. I use modeling paste on canvas to evolve forms that provide a structure on which my images come to life."
The two paintings she has entered into the show exemplify her statement. This textured acrylic painting is titled Paved with Gold and measures  10″  x  30″  x  1.5″ .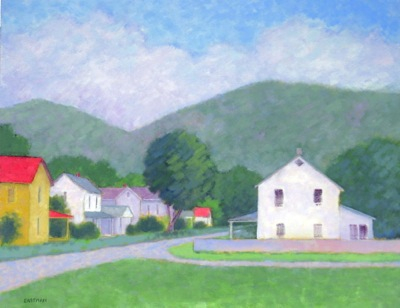 Julie Eastman paints to explore how she can capture that elusive combination of light, shadows, and space, all beautifully illustrated in the four large paintings she has submitted to this show.
At the right you see Julie's painting titled House with Hills (Buena Vista, Virginia). It is  acrylic on canvas, and measures 30″ x 24″ .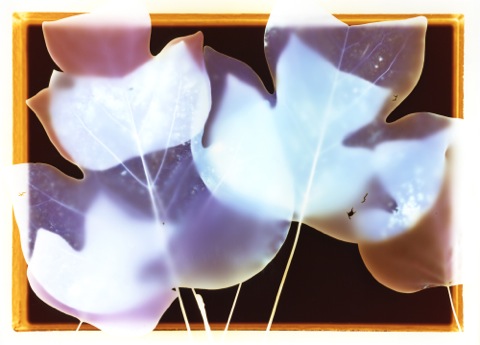 Jamie Hagenberger focuses on bold colors, natural forms and the unexpected within the creative process. Her color photograms embrace the techniques and experimentation of the 1800s and combine them with color from the modern era.  Jamie has both framed work in the show and a selection of her greeting cards.
This photogram is titled Tulip Poplar 566 and measures 11″ x 14″.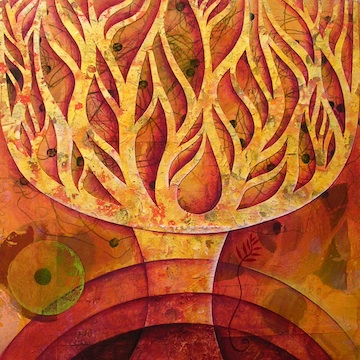 Shelly Hehenberger is exhibiting with us two of her smaller sized acrylic collage paintings of stylized trees, one in warm tones, the other in cool.
Shelly is the author of a local, collaborative art book titled Tree, and preparing another new book entitled River. River will be illustrated by 38 OCAG artists. Read more about it at this website.
The work to the right is titled Tiger Wood and is acrylic collage on wood and measures 10″ x 10″ x 2″.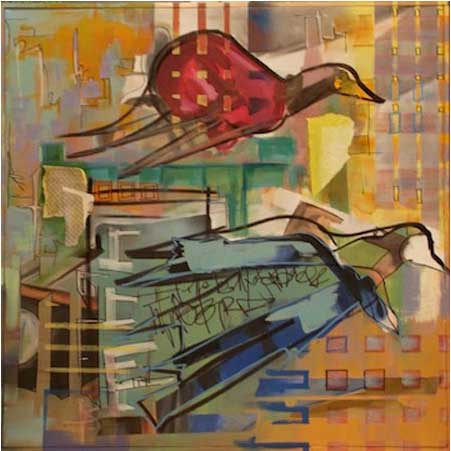 Gray Griffin work is deeply personal, with each piece having an intuitive meaning. One of her favorite quotes is from Paul Klee, "When one cannot stop, they have found their style". Gray has certainly found her style in her collaged mixed media, multi-layered extravaganza!
Here is a sample of her work from our OCAG gallery.
This image is titled # 3 and is in mixed media.
We have two clay artists: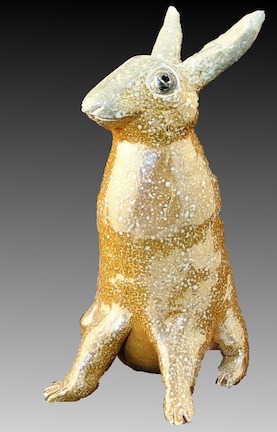 Pamela Epperson's salt fired Bunny is a hand-built endearing creature. Pam concentrates in three main areas: hand-built animal forms turned into whistles, piggy banks, and raku sculptures.
At the right is her bunny available only through this benefit. This piece is salt-fired stoneware and measures 14″ x 6.5″.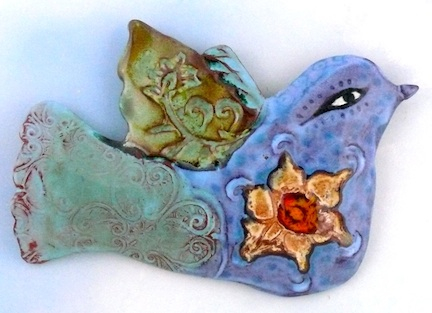 Cathy Kiffney is influenced by the natural world of flora and fauna, bringing us a flock of her colorful ceramic birds. Kiffney is known for a painterly approach to the surfaces of her clay work.
At the left is Cathy's Blue Bird in clay.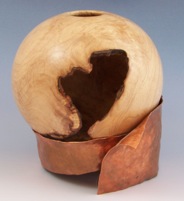 Ann Matrone works exclusively with wood-turned bowls, vases, and abstract forms. She is one of three artists working with wood in this benefit show.
For Ann, woodturning provides a method for creating shapes which can then serve as the starting point for individual expression. Who can resist the beauty of finished wood?

Vivien Burns is bringing in reproductions of her very intricate Asian influenced watercolors, offering larger pieces at a lower price point.
This Chinese Water color titled Joyful Night measures 11″ x 38″.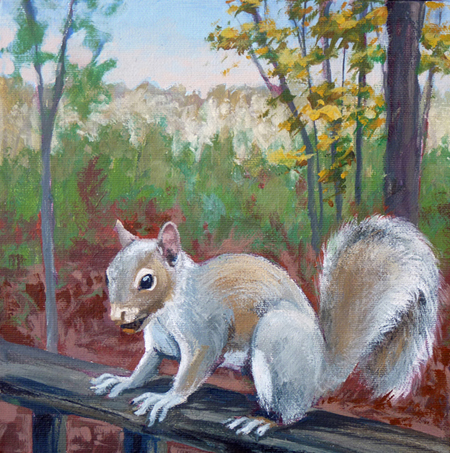 My own work going into the show will be three small squirrel paintings in acrylic. One has already sold which means a good start for support of the Triangle Wildlife Rehabilitation Clinic.
At this show there is certainly something for everyone!
The exhibit dates are March 1st to the 31st. Gallery hours are Tuesday to Sunday, noon to 6. Please help us get the word out! Visit during the month of March, and imagine the  fundraisers you will want to hold for Triangle Wildlife Rehabilitation Clinic in the future. The opening reception is Friday, March 8th 6-9 PM and Saturday, March 9th, 2-4 pm.
A big thanks to Chapel Hill Art Gallery. Join us for a very important cause, have fun and a captivating time to boot!