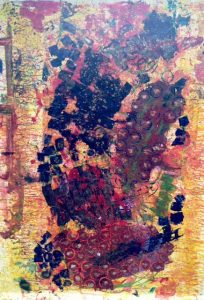 Three OCAG artists are participating in an upcoming show at the Chapel Hill Gallery of Art on Franklin Street. Here at what each says about their particular path while making their art…
Eduardo Lapetina notes: "The steps I go through are unpremeditated and unplanned. I might apply two or three layers this way, and then as shapes and forms emerge, a direction becomes apparent. It may take several more layers to achieve my aims, guided by intuitive processing of my moods, feelings, and flights of fancy.
I strive to exhibit the powerful emotions embodied in the process. That is more important than making images that are beautiful. An image achieved through such a slow, deliberative set of processes appears fresh and immediate by maintaining spontaneity at every turn. The destination is unknown until I finally arrive."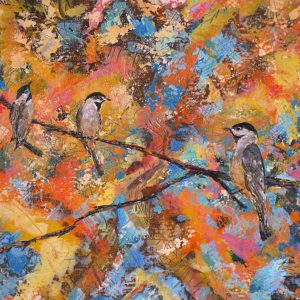 Ruthananda describes her background: "Between pet sitting appointments for Camp Ruthie, I paint. A lifelong student of art and religion, my images are playful and contemplative. Birds in their habitat inspire imaginative and textural, semi-abstract acrylic paintings, in sizes from 4 inches to 4 feet.
As an art major I worked in stained glass, etching, and silkscreen. Then, after college I pursued graphic design, layout, pasteup, and print production management at advertising agencies in Manhattan.
Back in my home town of Chapel Hill, surrounded by a forest full of songbirds and plenty of room for art supplies, I'm able to explore new ideas every day."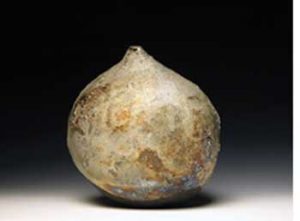 Natalie Boorman explains her process and ideas: "My hand-built clay vessels are symbolic forms that I entrust to hold my internal experiences. Beginning with a sphere of clay, I pinch an opening and make the walls as thin as possible. Sometimes holes form which I patch as I go. I am fascinated by the shape of the openings which occur spontaneously as I create the shapes with my fingers and hands.
To finish each pot I burnish, bisque, and pit or raku fire. I experience a kind of intimate "oneness" with the clay, and my pots have a fullness inside bound by the exterior of the vessel."
The opening reception for the upcoming event that includes these featured artists will be held Friday, April 10th,  6-9 PM. See more about this event at the gallery website.