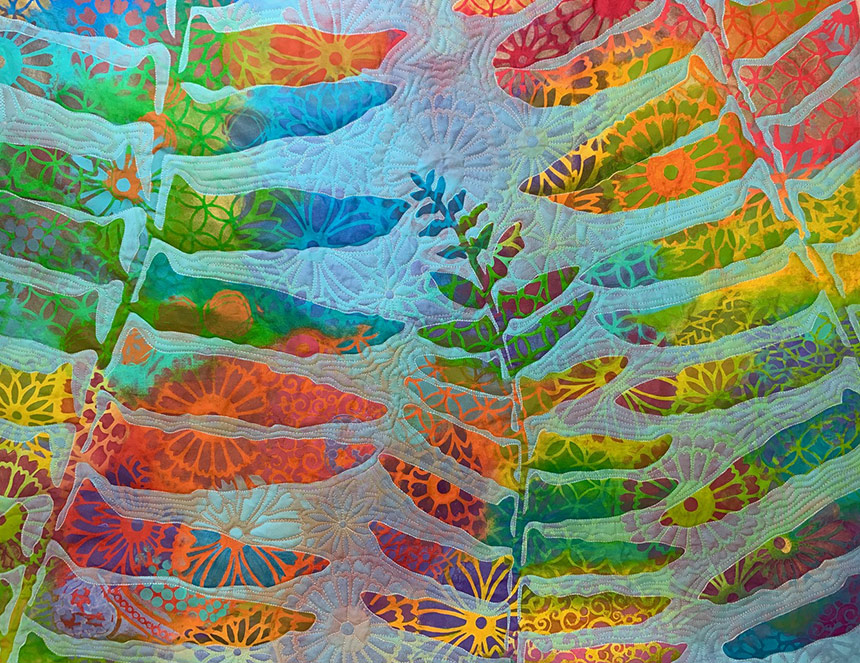 This past summer I've focused on making wholecloth painted art quilts.
These are not quilts for beds, but textile art to display on the wall. Each piece starts with plain white fabric, which I paint with acrylic textile paint. I then layer the piece with batting and a backing fabric before free-motion machine quilting it. I love both the process of painting and the meditative machine stitching, which adds pattern and texture. Right now, I'm quilting Fern Dance which is based on the native Christmas Ferns that grow around our house. To start this piece, I smeared a base layer of paint onto the fabric with my hands, stenciled it in bright colors, then masked out the fern fronds with a light blue paint. I rubbed it away in places to reveal some of the stenciled designs in the background.
The summer of 2021 saw billions of Brood X Cicadas emerge. Here in the Chapel Hill area, I didn't see any of the Brood X type, but there were plenty of our annual "Dogday" Neotibicen cicadas like the ones I featured in Cicadas on Yellow. The patterns and colors on their bodies and wings are really beautiful. I stitched around the cicadas using echo-quilting stitches to give the impression that the insects are moving and vibrating with their loud buzzing drone.
I've always loved the amazing shadows cast by one frond of palmetto on another. The Palmetto is native to North Carolina, but only thrives in our southernmost counties. Palmetto was painted on fabric, then heavily machine stitched to add texture and detail. This piece is one in a series of pieces I've been making that feature North Carolina's native plants.
My studio will be open during the Orange County Artists Guild Open Studio Tour the first two weekends in November 2021. Come see me, I'm stop number 68!