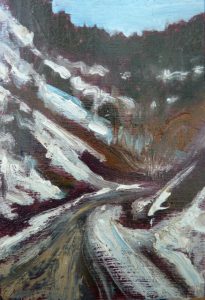 This article provides you with a glimpse inside Volume IV of my 25-year Handmade Book Series. Every year I take a lot of the art I've done, write about it, and turn the adventure into a book. Within the following paragraphs is a snippet of how the fourth volume of the 25-year Handmade Book series is coming along. This is the fourth year of the all-encompassing project. The subject was obvious: 4 seasons, perfect, as my primary mode of painting is plein air.
It would've been lovely if I'd had a peaceful existence of spending my work hours in the great outdoors! But, packing the French easel as I head for the door, a variety of things stop me. From a strongly recommended stay in a sleep lab, to parents having scary illnesses, to our failing dog…  life happens. To get my work done I had to have a vision, a plan to navigate through the daily obstacles: being diagnosed with sleep apnea, migraines, weekly veterinarian appointments, interspersed with the carpet cleaner. My writing gets done in 500 word chunks at 5 AM.  As I try to sleep, I envision the painting series I plan to do, so that when it actually happens it all flows like a déjà vu.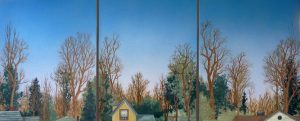 The Treetop series of nine paintings (3 small, 3 medium, and 3 large) were done in layers. I used a paint sprayer for the very smooth background of sky, made up of about eight layers from palest lavender to deep cerulean. When I finished with the acrylic under-coats, I moved onto oils and placed the first layers of branches across the three canvases. The triptychs were worked on simultaneously. With ever-present interruptions, completing a segment gives a certain sense of satisfaction, rather than insanity. For instance, when I had to fly up to New York City in a moments notice, this series was easy to pick up where I had left off.
A fellow Womancraft member asked me to join her in an exhibit in the Highlight Gallery. Having just finished the Treetop series, this sounded like a good opportunity to focus on smaller spring paintings.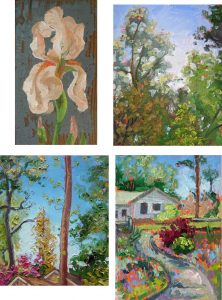 The spring images fell into four series: Irises on reclaimed wood, New Green (representing new leaves), Rooftops (mini relatives to the Treetop series), and the fourth is Spring Alive (which are small oils on boomerang panel with a vibrant orange under-painting, making them very alive!) There are twenty-five pieces in all. With summer visitors streaming in, a fundraiser that falls on my skinny shoulders, and then torrential rains, it's a contest as to which keeps me from the plein air painting I'd planned to do for Volume IV of the 25-year Handmade Book series. Currently I envision being at the Eno River finally to do my illustration for Shelly Hehenberger's RIVER book project. This past week, Womancraft flooded, as if a river had come through the store , not the kind of waterway I had planned to paint for the RIVER book. Being stuck inside due to the rains has shaped my 4th book of the series.
At the reuse store, Scrap Exchange, I found a large roll of white paper. Back at my studio I tested it for acidity. Happily it was neutral so it could be used as the primary base for this new book structure which I'd created before in my insomniac meanderings. With my foster cats sitting on either side of me,  I rolled the paper out to 7 foot lengths of 18 strips and then cut them further to be 10 inches wide each, making enough for 54 books. These I basted on one side with a muted mustard shade and the other side I splattered with slate grey. Once dry, I folded the 10" x 84" tinted strips of paper into 6" x 6" book-blocks with 12 pockets. Then they are sewn with front and end pages, then later content and covers are added.
I hope this essay has shed some insight into what the 25-year Handmade Book series is about and my process. Now, you might ask what are boomerang panels? You can find this out by visiting my open studio during the Orange County Studio Tour!
To see more of Emily's work visit her website. Another note of interest: Weinstein volunteers with the Independent Animal Rescue, and has been busy gathering the works of various artists for their upcoming fundraising event, The Painted Chair and More Auction. Eight other OCAG members will take part in this signature event. This includes Shelly Hehenberger, Dale Morgan, Trudy Thomson, Louise Francke, Martha Petty, Emily Lees, Ann Matrone and Miriam Sagasti.