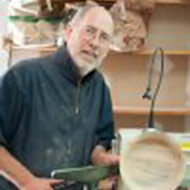 Tour Status:
Both indoor and outdoor set-up, ADA Accessible. Vaccinated. Masks required. Limited number in the Studio at any one time.
Artist Statement
It is my goal to strike a balance between classic design prescriptions and my belief that many blocks of wood have something to say. The former leads me to create pleasing proportions in my spindles and pleasing curves in my bowl forms. The latter leads me to look to the wood for suggestions of shape and texture.
I am particularly attracted to blocks of wood that have started to decay. Wood that starts out on someone else's burn pile often ends up in my shop. A partially decayed piece of wood can reward the turner with dramatic color and pattern but requires that the turner navigate voids. Handling the negative space in a funky block of wood is a challenge worth taking.
I am actively working on several turning projects. In one, I turn roots, burls, and spalted wood with an eye to releasing interesting patterns, colors and textures in the wood. In a second, I turn bowl forms and ikebana to shapes suggested by Asian sculpture and architecture. In a third, I build and turn laminates—layers of wood of varying widths and colors. The goal here is to turn the laminations in a way that reveals interesting patterns in the accent woods.
I regularly try new projects. Recently, I have been combining interesting chunks of wood with epoxy resin to make turning blanks which I then turn into final vessels. Please see https://www.ocagnc.org/turning-blanks-that-combine-wood-and-epoxy-resin-by-michael-salemi/ for more detail on this project.
The beauty of wood turning is that there is always some new challenge, some new way to help the wood speak.
Artist Biography
After I retired from the Economics Department at the UNC, I decided to make a serious effort to develop as a wood turner. I attended the Alamance Community College woodturning course taught by Bill and Jim Wallace for three terms. I took a two day workshop on the use of inlays in wood turning taught by Bill Wallace in April of 2013, an intermediate wood turning course (Bowl Shapes and Hollow Forms) taught by Joe Ruminski at Campbell Folk School in Spring 2013, and an advanced course (Turning, Detailing, and Finishing Platters) taught by Frank Penta at Campbell in September of 2014. In the summer of 2013, I became a regular participant in the weekly open studio conducted by Frank Penta and joined the the Chapel Hill Wood Turners (CHWT) club in 2014. I was a member of the Hillsborough Gallery of Arts from 2016 to 2021.
This user account status is Approved
This user has not added any information to their profile yet.
Back to Artists Main Page