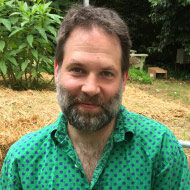 Tour Status:
Both indoor and outdoor set-up. I will have all my pots displayed on a covered porch next to my studio. My studio will be open for people to see, and I will keep all windows and doors open. Guests are asked to please be masked when visiting my studio.
Biography
Ronan Kyle Peterson grew up in Poplar, NC, a small community deep in the mountains of western North Carolina. He attended the University of North Carolina at Chapel Hill and in 1996 received a Bachelor of the Arts degree in Anthropology, with a minor in Folklore. His interest in Folklore led him to John C. Campbell Folk School in Brasstown, NC, where he began taking classes in ceramics and other media. After working for two years with two potters in the area of Asheville, NC, he attended Penland School of Crafts. Initially, he intended to stay for a two month Concentration in Wood and Soda Fired Pottery with MacKenzie Smith, but two months turned into four years. After Concentration, he applied for and was accepted into the Core Student program. During the two-year intensive work exchange program, he had the opportunity to study with a number of internationally known artists and craftspeople.
Currently, Ronan maintains Nine Toes Pottery, a ceramics studio in Chapel Hill, NC, which produces highly decorative and functional earthenware vessels. His work is drawn from processes of growth and decay in the natural world and translated into a ceramic comic book interpretation of both real and imagined phenomena. His ceramic vessels have shown in local and national exhibitions, including the 2008 Strictly Functional Pottery National in East Petersburg, PA. Ronan was also invited to participate in the 4th, 5th, 6th, 7th, 8th, and 11th Annual Potter's Market Invitational at the Mint Museum in Charlotte, NC, held the first weekend in September and includes some of North Carolina's most talented ceramic artists and potters. His work has been featured in both Ceramics Monthly and Clay Times, and the books 500 Bowls and 500 Plates and Chargers, which includes an image of his plates on the back cover.
Ronan's work is included in the Permanent Collections of the North Carolina Pottery Center in Seagrove, NC and the Governor Morehead School in Raleigh, NC. Recent exhibitons include solo shows at the Kiln Gallery in Fairhope, AL, Mudfire Gallery in Atlanta, GA, Charlie Cummings Gallery in Gainesville, FL. Also an educator, Ronan taught for 10 years at local craft centers and ceramics studios in the Chapel Hill/Raleigh/Durham area of NC, and has recently taught workshops throughout the Southeastern United States, including at Penland School of Crafts, Arrowmont School of Arts and Crafts, Mudfire Studio, and the Kiln Studio.
Artist Statement
Essentially, I am dealing with effects of agents of growth and decay and how these agents shape and embellish the surfaces of stones and the skins of trees. These agents also serve key roles in interacting with my ceramic vessels. Mushrooms, seed pods, grubs and other growths serve as knobs and handles, allowing one to remove lids and discover what might be inside or underneath a covered vessel, like lifting a rock to have insects scurry in many different directions when subjected to the light of day. The vessels are not intended to be actual representations of the trees and rocks, but abstractions and stylizations of these natural phenomena. Employing an earthy background palette stretched across textured but quieter surfaces, I wanted to upset that quiet earthiness with intense splashes of vibrant color, patterns, and glossy surfaces not commonly associated with tree bark or the rough surfaces of rocks amidst fallen leaves. I am interested in inflated volume and thick line qualities that reference comic style drawings and how that can apply to interpreting the natural world. With my ceramic vessels I hope to create a comic book interpretation of the natural world with a focus on the rocks and trees and their role in the perpetual organic comedy of growth and decay.
The Process
I use red earthenware clay to make my ceramic vessels. Most of my work is wheel-thrown, altered and assembled, with some forms hand built from flat sheets of clay utilizing handmade molds. My pots are often times coated with a white slip, or liquid clay. I either coat the entire piece in the contrasting white color to carve through and reveal the rich red clay beneath, a process known as sgrafitto, or I dip select areas in the white slip and then respond to the shape that results from the contour of the dipped pot. After the vessels have completely dried I often paint on or dip the pieces into terra sigallata, a super refined clay slip that can help seal the work and that is very sensitive to any micro-atmospheric effects that might take place in the final firing of the work. All of my work is then bisque fired in an electric kiln to around cone 06. After bisque firing my work, I then apply, either by dipping or brushing on, a myriad of shopmade and commercially produced glazes. I employ glazes that enhance the surface and carvings of my vessels or I layer glazes and wax resist areas to achieve certain textures, glaze interactions, and patterning. After a laborious glazing cycle, my work is then fired a second time in the glaze kiln to cone 03 or 1987 F. Most glazes I use are food safe, and intended for use in the kitchen and home. These glazes are durable, and can be placed in the dishwasher, however I do not recommend microwave use for any of my work. Any work that includes a non-food safe surface will be more sculptural in nature, labeled as such, or the glaze in question will most assuredly be on the exterior of the piece.
This user account status is Approved
This user has not added any information to their profile yet.
Ronan Kyle Peterson / Nine Toes Pottery
Artist Gallery
Back to Artists Main Page