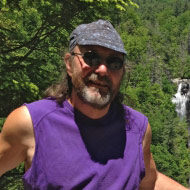 Tour Status:

Outdoor set-up only. Public restroom available at the coffee shop across the street. Masking respected.
Studio open by appointment, directions here
Mike Roig's sculptures are welded constructions in stainless steel and recycled mild steels. His work is widely collected. Triangle residents will be familiar with his much visited downtown-Carrboro sculpture studio, his kinetic sculptures Promethean Honor Guard at Chapel Hill's Firehouse No.1 and Glimpses of the Promised Land in Raleigh's Chavis Park, among others. Many of Mike's pieces grace public and private collections in the US and Canada. Increasingly known for his large, kinetic sculptures, his work, figurative and abstract, explores sculptural forms from the monumental to the intimately scaled. He lives and works in Carrboro, NC, where he and his wife Clay Carmichael have their home and studios.
Artist's Statement
I've been making art since I was small, it's what I came in hard-wired to do. Working in steel satisfies me in a way no other medium has. It is tough and durable, yet malleable and open to infinite suggestion. It is heavy and obdurate, and yet can be made to express delicate movements of balance and grace. It can appear earthen and solid, or be polished to light-refracting brilliance. I don't often sketch ideas in advance: the bars, angles, torch and welder are my drawing tools. All I need is a hook, some mental notion of an interesting direction to explore and I begin.
Creating art is an adventure where knowledge must be accumulated and employed in a seamless cycle. Often I won't foresee everything that will be required to take the working sculpture all the way to resolution, but inevitably, several onward courses will beckon. The key is to choose not what just moves you to completion, but what makes for a lively, memorable journey. I like to be surprised with what I come up with at the end of the day. I've learned as I have gotten older, and maybe some wiser, to talk less and work more. That's where the truly interesting conversation is taking place.
This user account status is Approved
This user has not added any information to their profile yet.
Back to Artists Main Page