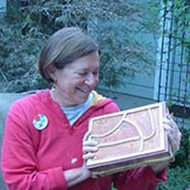 Tour Status:
Both indoor and outdoor set-up, ADA Accessible
Clay Centre Covid Precautions:
The six artists showing at The Clay Centre are all fully vaccinated and we will also be wearing masks as an extra precaution. We ask that our visitors also be masked while inside our studios. Some of our artwork will be displayed in our outdoor courtyard, and we will open windows and doors to our respective studios to create airflow. For our indoor spaces, we will attempt to control the flow of visitors so that people can comfortably distance themselves.
Artist Statement
From the first moment I saw a piece of pottery being thrown on a wheel I knew I needed to touch clay.  While initially drawn to the wheel, I quickly became focused on hand building to create pieces that are functional as well as sculptural.  The pieces I make are both architectural and organic in form, expression, and design.  Graphic, contoured, vibrant, tactile, evocative are words that describe my work. My goal is to create art that is approachable - that people want to investigate, explore, and use.
I lived in New York City for over 35 years, and my work is born from that environment.  The density, noise, colors, and constantly changing scenes of the City have significantly informed the pieces I create.  Now that I am living in North Carolina, my art and creative process are increasingly influenced by the colors and textures of nature, in the quiet sky, open fields, and dense woods.
Music is another important creative force in my life.  My musical expression is vocal - as a soloist and member of various vocal groups.  Blending voices and harmonies, controlling the shape and color of the notes, and creating a musical story of emotion parallel how I respond to clay.  As when I am singing, in creating with clay, I encounter unexpected notes, harmonies, and phrasing, using these to tell my story.
My art is personal in both the creation and the expression, but at the same time I need other people to see and hear it.
Bio
I have worked in clay for over 20 years. I started with a wheel class at the local YMCA, and took classes at several ceramic studios in New York City, including Greenwich House Pottery, a ceramic arts school offering a wide range of wheel and hand building classes. I began to focus on hand building my pieces early on, and continue to use hand building to form my pieces. Since moving to North Carolina in the summer of 2010, I have taken classes and workshops at Claymakers in Durham, NC; have become a member of the Red Clay Coop in Carrboro, NC; have taken workshops at several places in North Carolina including Penland, Sawtooth, and Claymakers.
My work has been exhibited in New York City at Greenwich House and various ceramic shows in the City. More currently, I have work at Destination Gallery in South Boston, Virginia, and Claymakers in Durham, NC; the Carrboro, NC., and I have participated in shows at the Red Clay Coop, Clayworks Guild, and the Carroboro Arts Center.
In addition to my ceramic pieces, I design and create one-of-a-kind jewelry using precious and semi-precious stones, pearls, silver and gold.
Music is my other creative outlet. I have been singing for most of my life, and have performed light opera, choral music, and folk music. I have performed with a quartet while living in New York City for over 15 years.  My current trio is working on a name and a repertoire.  Making music with and for others, brings joy into my life.
My ceramic work and additional information can be viewed at lindapragerdesigns.com
This user account status is Approved
This user has not added any information to their profile yet.
Back to Artists Main Page