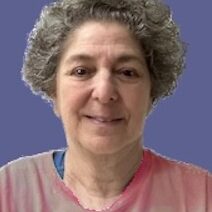 Artist Bio
When I was about three, I determined that my favorite subject was the family cat. A few decades later it is the same, with the addition, however, of landscapes, mixed media, recycled materials, and large projects featuring books and murals.
Originally from New York, I spent five formative years in Europe, two in Greece, then three years divided between Paris for art school and England for my first year of college. At Virginia Commonwealth University I got a BFA, then migrated to Upstate NY where I was hired as a resident artist in the schools painting murals. When the grant ended, I bought a van and traveled through the US and Canada, painting the unwinding scenery. Settling in Durham in 1982, I originated two businesses, Pet & People Portraiture and Murals-by-Many. I also wrote my first manuscript.
Many years & art adventures later, a publisher asked if I could envision turning my moon painting series into a book. Thus Moon Book, a collection of 72 full-moon paintings with the diary. I kept. Cat Book I developed a style of monoprint portraits of my feline subjects, along with their life stories. Dog Book was created with more classically rendered oil portraits along with a short biography of each animal. Saving Magic Places consists of inter-views concerning an amazing tale of victory, heavily illustrated with portraits and landscapes of the Piedmont area.
In 2010 I discovered the joy of making handmade books; so began my 25-Year book project in which I make only 50 copies of each year's 6"x6" book. The first volume, 2009-'10, highlights my crazy homemade wedding with its tribute to recycled material. Volume II is about the A to Z of creating a mural in a perfect bound book with individually painted covers. Volume III is a triptych which covers the subject of a) Travel b) Flowers and c) Pets and fits into a faux painted sleeve, re-formatted from a cereal box. The 25-year Handmade Book Series is only sold through my home gallery.
Seven days a week my paintings can be found at NC Craft Gallery in Carrboro and Pittsboro Gallery of Arts in Pittsboro. Along with original artwork from my books, three of the commercially published books and greeting cards are available there too. My studio/gallery and Dollhouse Museum is open by appointment. I foster two cats at a time who need real homes and often feature rescues in my art work.
 DIRECTIONS: Off of Ephesus Church Road
HOURS: Both weekends or by appointment 364 days a year
This user account status is Approved
This user has not added any information to their profile yet.
Emily Eve Weinstein Studio/Gallery
Artist Gallery
Back to Artists Main Page