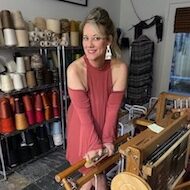 Tour Status:
Outdoor set-up only, ADA Accessible
Dawn Hummer
Wildflower Woven Design ~ designs and weaving in textile art
...committed to the esoteric way of hand-weaving, supported by the Slow Craft Movement
...seeking to connect the public with the beauty and function of handmade art and their creators
Wildflower Woven Design celebrates the mindful and time-intensive creation of one-of-a-kind finely woven art pieces for home, public and personal adornment. With respect to traditional patterns and techniques from both eastern and western cultures, each piece evolves in my studio as sculptural or woven art. Aesthetic principles of asymmetry, simplicity, and wabi-sabi, fused with whimsical deconstruction in design and process are joyful and identifiable statements within each woven piece. Loom designs begin with a single hand-warped fiber sequence of 100's of sustainable and often hand-dyed textural threads meticulously threaded beamed on a multiple harness floor loom. Foot-treadling patterns combined with shuttles of weft, advance the hand-manipulated design in a fusion of color and texture. Sustainable warp and weft fibers include linen, silk, bamboo, wool, alpaca, tencel, cotton, hemp, and sugarcane as well as metals, paper, 16mm film, and found materials.
Awarded Saori Weaving Studio designation and certification from Saorinomori in Osaka, Japan, I look forward to facilitating joy and creative expression through weaving, in the community and to individuals of all abilities.
Artist Bio:
Dawn's professional education includes Undergraduate and Graduate Degrees in Education,
15 years of teaching and administration in public and private schools where she was an early advocate for students with disabilities, and private tutoring for 3 decades. With regard to personal artistic endeavors, Dawn has studied diamond point machine engraving, watercolor, primitive rug hooking and weaving over the years. Travel to Western and Northern Europe, Latin America and throughout the US has allowed for learning opportunities and exploration of early industrial textile manufacturing.
She has taught artistic creativity across mediums to students, groups, and individuals with varying degrees of disability. A transplant to Chapel Hill, NC from Austin, TX, Dawn balances personal artistic exploration while continuing to carry forward a passion for facilitating creative expression and joy within the larger community through artful weaving.
One of only a handful of Saori-certified weaving studios in the U.S., Dawn uses modifications in the physical weaving environment, to facilitate the exploration of texture, color, and process with individuals regardless of ability.
Portable Japanese-engineered looms allow for transport to alternative studio settings such as residential centers, schools, therapeutic, and home environments.
She extends a warm southern welcome to her studio, Saori Song Weaving Studio ~
saorisong.com
"A weaving studio facilitating joy and free-form expression to those of all abilities."
This user account status is Approved
This user has not added any information to their profile yet.
Wildflower Woven Design, Saori Song Weaving Studio
Artist Gallery
Back to Artists Main Page