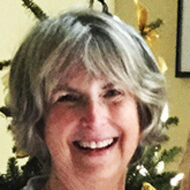 Tour Status:
Both indoor and outdoor set-up, ADA Accessible
Clay Centre Covid Precautions:
The artists showing at The Clay Centre are all fully vaccinated and we will also be wearing masks at times as an extra precaution. We ask that our un-vaccinated visitors also be masked while inside our studios. Some of our artwork will be displayed in our outdoor courtyard, and we will open windows and doors to our respective studios to create airflow. For our indoor spaces, we will attempt to control the flow of visitors so that people can comfortably distance themselves.
Clay Centre Gallery
Functional Stoneware and Porcelain Pottery
Barbara's stoneware and porcelain work is wheel-thrown and hand-built, and fired in oxidation to a mid-range temperature (2185 F). Texture is added by pressing soft clay slabs into a bisque-fired (hardened) slab with texture carved on it, or by pressing handmade clay stamps into damp clay. Many of the stamps are leaves, birds or ancient symbols and come from Barbara's interest in designs from nature or Asian and other prehistory. She has traveled extensively to aboriginal sites in the Southwest and more recently to temples in Asia, and was struck by the quiet mystical nature of sites important to early peoples. Pottery was an art form almost from the beginning, and the allusion to ancient pottery and sculpture ties us to those times. Earlier cultures used clay pieces for functional and ritual purposes, such as the tea ceremony, and Barbara enjoys creating functional pieces for modern use. Trained at Penland School of Crafts in western North Carolina, she taught ceramics in the Chapel Hill area from 1989 to 2014. In 2002, Barbara built the Clay Centre, a venue for clay and other artists to practice and perfect their craft.
Raku
Travel to Asia has inspired a renewed interest in Raku for Barbara. Raku is a Japanese technique of firing, originally used for the ritual of the tea ceremony. In Raku, the piece is removed from the kiln red hot and placed in combustible material. The smoke released by the flame is absorbed into the piece, blackening any unglazed surface. There are a small number of raku pieces in Barbara's gallery.
More on Barbara Higgins at http://www.claycentre.com.
Barbara's work can be purchased at Clay Centre Gallery in Carrboro, NC or on <https://www.etsy.com/shop/ClayCentreGallery.
New work can be seen on Instagram at barbarahigginspottery.
Follow Barbara on Facebook at Clay Centre Gallery.
This user account status is Approved
This user has not added any information to their profile yet.
Back to Artists Main Page