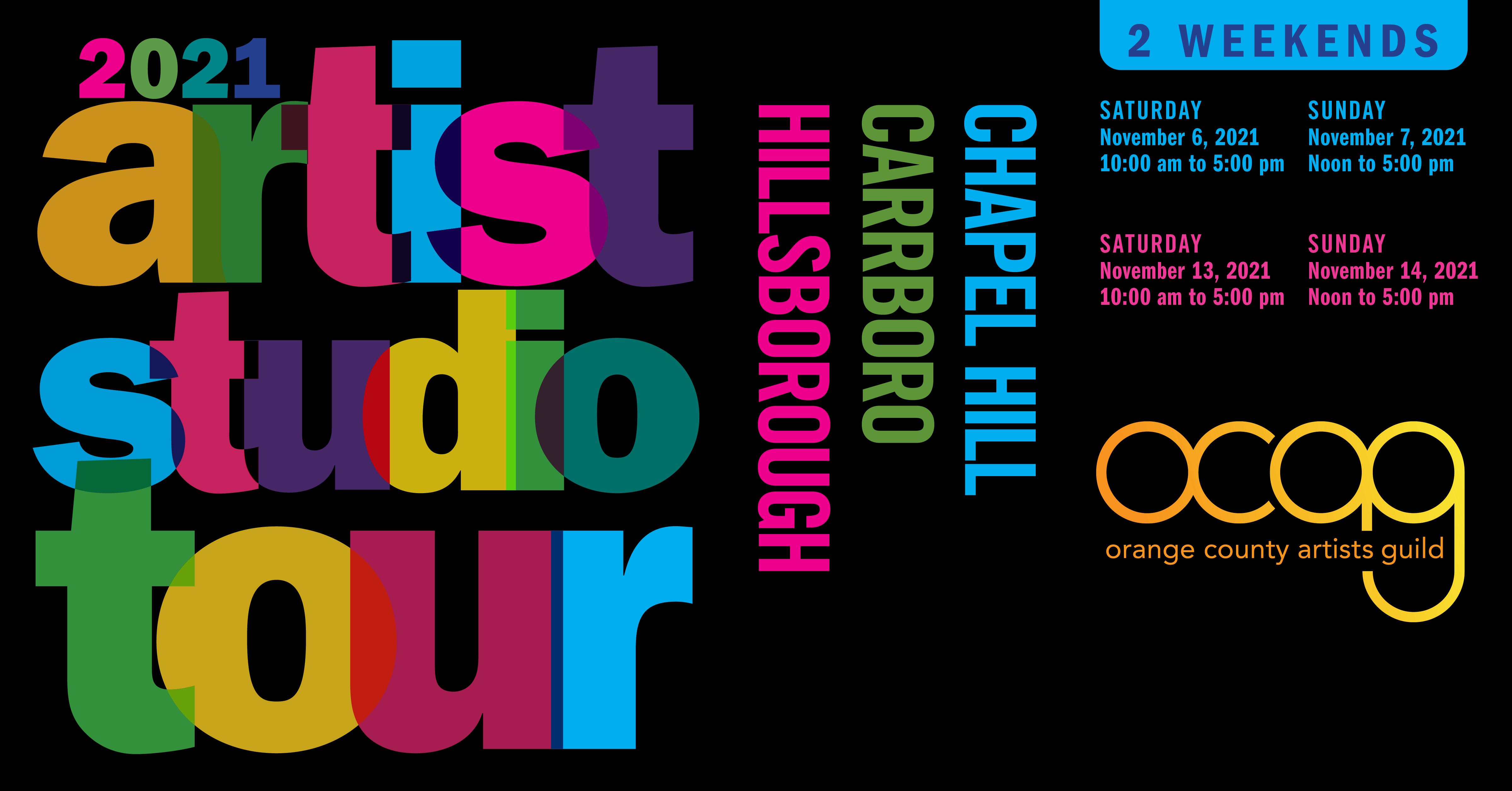 The 2021 Orange County Artist's Guild Studio Tour is back!
Now in its 27th year, the 2021 Orange County Artist's Guild Studio Tour is back and will take place the first 2 weekends in November – the 6th, 7th, 13th and 14th. For many Orange County artists this event is the highlight of their year, with the opportunity to meet art-lovers across the triangle and beyond, and to share their year's creative output. The tour is also much beloved by many visitors for whom it has become an annual tradition, as well an opportunity to start their holiday shopping.
The 2021 Artist Studio Tour will follow Orange County COVID-19 Safety Protocols to keep all of our guests and members safe during the tour. Face coverings are required for indoor public events. For more information, please see our statement on COVID-19 Safety Protocols and refer to artist profiles for safety protocols for each studio.
The Orange County Artist's Guild is committed to hosting a safe and fun open studio tour this year. We want all of our guests to feel comfortable and know what to expect when visiting any of our member studios. That is why we have created several new resources to help everyone plan their tour experience this year:
Interactive Map with each studio's COVID policies & precautions below or directly on Google Maps
Studios with specific COVID precautions are listed at the top of their profile page
Visiting Orange County, NC? Where to Eat, Drink & Stay
Click below to download the full Tour Guide or just the map:
Map update: Studio 6: Pamela Groben sold out first weekend and will be closed second weekend. 
The History
The Orange County Open Studio Tour was begun in 1995 by Monnda Welch, an enterprising jewelry maker then living in Orange County. Monnda was inspired by the highly successful Chatham County Open Studio Tour, begun a couple of years earlier. Initially unable to receive any help from local arts organizations, Monnda single-handedly promoted and organized the first Orange Tour. By 1998, the Orange County Tour exhibited 45 artists and had attracted loyal supporters, but it was a truly Herculean task to organize the artists and raise the necessary funds for advertising. So in 2000, Monnda turned the Tour over to the Orange County Arts Commission, who in turn initiated the creation of the Orange County Artists Guild. Guild members volunteer their time working in committees to accomplish the many tasks related to the Tour. The Open Studio Tour is funded only by artist member fees and small donations from the community. Thanks to the Arts Commission and to Monnda Welch for bringing artists together in pursuit of our common goal–making Orange County artists visible.
Making Orange County artists visible is not an easy task. There are an estimated 700-800 artists of all kinds in Orange County. Visual artists and craftspeople have relatively few opportunities to be seen and appreciated in the county. So the advantages of the Tour to the artist are obvious. Artists enjoy direct contact with supporters and gain a much wider exposure of their work. And Tour visitors enjoy meeting the artists in a casual atmosphere, viewing a wide range of the artist's work, and being able to ask questions about the artist's or craftsperson's process. In addition to seeing work the artist has on hand for the Tour, visitors are welcome to ask about commissions for larger works, serial pieces, portraits, or installations. This means a piece is made to order and may require a down payment and contract. Many artists are receptive to installment payment plans for more expensive works and often will allow buyers to take artwork home on approval for a few days.
Studio visitors always say they enjoy seeing the context and environment in which the work is made—how studios reflect the individual artist's character and perspective. They say that the educational and recreational value of the Tour is just as important to them as the opportunity to actually purchase a work of art to take home. Many are curious to get an inside look at what it really means to create a work of art from scratch. Others come for inspiration to actually take up an art form themselves. And the Tour is a great experience for children of all ages. The Orange County Open Studio Tour brings artists and the community together in celebration of the creativity and diversity of the arts in our area.
Contact
Contact the Artists' Liaison, Dawn Hummer if you have further questions about the Tour or the application process.