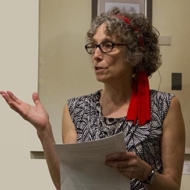 Barbara Tyroler is a practicing artist, university level educator, and commercial photographer recently relocated to the Triangle from the DC metropolitan area. She typically focuses on abstracted environmental portraiture with emphasis on family, relationships, and issues of identity. Tyroler produces site-specific portraiture for corporations, universities, health-oriented non-profits, and families. Her commercial work, although more formal and accessible to the popular audience, integrates her sense of design and craft with a sensitivity towards social dynamics.
In her current series, Tree Portraits, she deploys the human subject (and the subject of home) as conduit, leading her through neighborhood forests and gardens of trees. Through this journey during the seasons of Covid, she has used the lens to create stories.
Tyroler's fine art work utilizes water as backdrop for impressionistic portraiture and is represented locally in Chapel Hill, NC with FRANK gallery. She is the recipient of over 25 arts and community development grants. Before returning to her hometown Chapel Hill in the summer of 2009, she served on the faculty of the art department at the University of Maryland where she taught lens based critical theory, traditional wet darkroom, and digital imaging. She currently teaches through Duke's Center for Documentary Studies and Elon University with the Elon Academy. She holds a MFA in Digital Imaging and a M.Ed. in education and community development. Her photography is in numerous public and private collections in the DC metro area.
Statement
Although my imagery is not digitally composited in computer software, viewers are frequently confused when they learn that these prints are not paintings, but rather photographs. What makes us unique as lens-based artists? From a personal perspective, I can say that our work has a direct relationship with light. For me, timing, would be of particular interest, because photography seizes on the frame, and promises to create that very special single moment within a world of moments to provoke some notion, some memory, some personal universality.
My particular process is more hybrid, neither fully journalistic (observational in its approach to the portrayal of documentary or evidentiary information) nor directorial (as defined by a more direct interaction within staged portraiture). These photographs, captured from the "real world", utilizing new as well as used media tools and technologies, tend to be somewhere in between the spontaneous and the stylized, capturing people at various levels of engagement with the photographer/audience as they move within their own personal environments and that of the viewfinder, the printed image, the monitor, or the projection screen.
Over the years in my work as an artist, educator, and community worker, photography has provided access to such a variety of themes and social issues. These include projects with poverty and homelessness, documentation of emotionally distressed children in a therapeutic camp, to ritualistic dreaming techniques and underwater dance performances of the elderly. I am currently working with water portraits in the style of Abstract Figurative Art.
A lot of this work is about chasing color, going beyond what I see in front of the lens in order to find out what I sense is happening within the internal environment; in other words to evoke feelings rather than provide a narrative dialogue of my own perceived neutral impossibly unbiased perspective.
This user account status is Approved
This user has not added any information to their profile yet.
Barbara Tyroler Photography
120 Old Forest Creek Drive
Artist Gallery
Back to Artists Main Page